---
Simon Birch
Review by Elias Savada
Posted 11 September 1998
Directed by Mark Steven Johnson.

Starring Ian Michael Smith, Joseph Mazzello,
Ashley Judd, Oliver Platt, and David Straithairn

Written by Mark Steven Johnson,
suggested by the novel "Prayer for Owen Meany"
by John Irving .
The brilliant fall foliage of folksy Gravestown provides a lovely opening for this well meaning but fatally flawed drama of New England small town prejudice and hidden relationships. Unfortunately, Simon Birch's bark shrivels under the weight of its two-hour length and dramatically under-developed script. Had it been a half-hour shorter than its nearly two hour length and more emotionally seeded in its story than its characters, writer and rookie director Mark Steven Johnson would have had a better picture for you to enjoy, instead of the maudlin drivel it is. Instead, Simon Sez this will probably not have much of a chance against its chief new competition. No, not Rounders. Yes, The Starr Report. You're downloading it, overloading the internet over it, reading it, and watching television specials about it. Heck, I wonder if anyone's been going to the movies lately. Which has nothing to do with why Simon Birch didn't work for me, but adds another reason why Simon Birch probably won't make it out of the box office gate.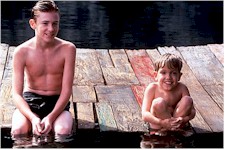 Johnson, who penned Grumpy Old Men and its sequel, graduates to a piece (truncated in spades from John Irving's Prayer for Owen Meany) squarely resting on two individuals generations younger than the stars of his earlier efforts. And while these two kids give it the ole Sunday school try, they're placed in a void of a thirty-something flash-back screenplay that punctures any possible tension in the screenplay by telling us (through a cloying voice-over by a non-comedic Jim Carrey as one of these stars many years later) two key plot developments at the film's opening.
This slow moving tale centers on the friendship of one simple Simon (Ian Michael Smith), a pint-sized pre-teen with a big heart and grand intentions, and his best friend, the bright Joe Wenteworth (Jurassic Park's Joseph Mazzello), a son born out of wedlock to an earth-goddess mother (Kiss the Girls' Ashley Judd). Her refusal to reveal the identity of Joe's father in 1960s America would suggest her being branded an outcast, but her immaculate honesty and stunning beauty instead merit worship by many of the town's male population, especially the diminutive Simon. Go figure. Smith, a truly gifted non-actor, has most of the best moments in the film and shows a genuine gusto in tackling the role of one of life's "peculiar little disappointments."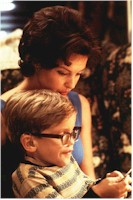 When a foul ball hit by Simon removes Rebecca Wenteworth from the picture, the film begins to further deflate. The boys embark on a stealth quest in search of Joe's dad, while Simon continues his nagging and endless commentary on his heroic destiny. Sprinkled about their playing field are a handful of talented actors in search of a script. Jan Hooks is the autocratic Agnes Leavey, a prissy bible-belt teacher who gets a hellish comeuppance courtesy of "Baby Jesus" Simon's sudden infatuation with a fellow schoolmate's budding bustline at the Christmas Pageant. (I guess even martyrs-to-be are human.) Oliver Platt (Funny Bones, Bulworth) is local drama teacher Ben Goodrich, a intrepid suitor of Rebecca's affections who befriends the boys with a stuffed armadillo and a plateful of peas, then later offers heartfelt homilies as pseudo-dad/cheerleader to the youngsters in lieu of proper instruction from Rebecca or the local priest, acceleratingly morose Reverend Russell (David Straithairn).
Of course, the discovery of Joe's dad's identity and saintly Simon's "I-told-you-so" heroics bring the film crashing to its icy saccharine conclusion. And it's definitely several tear-inducing moments overdue…for me and probably for you. Hey, if you want a sugar fix, go buy a milkshake. Geez, guess I really am just a grumpy old man.
---
Contents | Features | Reviews | Books | Archives | Store
Copyright © 1999 by Nitrate Productions, Inc. All Rights Reserved.