---
Rounders
Review by Elias Savada
Posted 11 September 1998
Directed by John Dahl.

Starring Matt Damon, Edward Norton,
John Turturro, Famke Janssen, Gretchen Mol,
John Malkovich and Martin Landau.

Written by David Levien and Brian Koppelman .
It's a good bluff, but a bad bet. Most of you will make it through a few hands in Rounders, pushing it to the number one spot its opening weekend. A compelling cast and gritty authenticity make an appealing diversion for any intelligent filmgoer bored with the Bill and Monica story. But while this mildly entertaining study of the Big Apple's high-stakes, low-life world of hard-core card and loan sharks is heavy on atmosphere, it's flat on substance, poor on relationships, big on predictability, and slow getting anywhere. And if you're an exceptional poker player like handsome Mike McDermott (Matt Damon), it's hard going cold turkey when you can read the opposition like an open book (and hence the reason he's studying law -- what else is the legal profession but a big game). Jo (Gretchen Mol), his blond squeeze, social conscience, and fellow student, further befuddles the story, providing an unconvincing trifle of moral sense (that taking money from moronic card players is no way to support yourself) before she heads for the comfort of moot court and a life of her own. You'd be best taking advice from both: he'd tell you to fold early and she'll suggest an early departure from the game. And with detestable friends like Worm (Edward Norton), an ex-con who continually squirms himself and anyone who fronts him deeper into debt, Mike may not need enemies, but he still gets a goonish handful, chief among them being Teddy KGB (John Malkovich as a mad, Oreo-chomping Russian). John Turturro plays good/bad guy Joey Knish, a card player who got out of the sport years ago and now referees the big boy matches. Get out your toothbrush, throw in the cards, and cut your losses. You want safe bets? Here's two: Sammy Sosa and Mark McGwire. Compared to those kings of big swings, Rounders is a long shot. At best, a ground-rule double, and that's stretching it.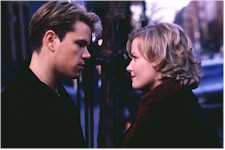 First-time screenwriters David Levien and Brian Koppelman and director John Dahl (Red Rock West, The Last Seduction) have embedded Rounders with a plenty of gambling vernacular and local color (with side trips to drab Binghampton, New York, and a garish Atlantic City casino), effectively captured by cinematographer Jean Yves Escoffier (Good Will Hunting), but their characters are painted with flat strokes, with the possible exception of the compulsive Worm. If you want a good gambling/con artist movie, head down to your local video store and rent The Grifters (1990),The Hustler (1961), or, on a lighter side, The Sting (1973). Norton (Primal Fear, The People vs. Larry Flynt) immerses himself into this big bad egg of a sleaze role, and while I had no trouble hating his character (God save your sole if you empathize with this loser), it takes way too long for his school buddy to realize he's friends with an vile stick of aging dynamite -- unstable and ready to blow.
The confused McDermott gets a bruising, close-up view of the streets before grudgingly seeking out his mentor, Professor Petrovsky (Martin Landau), an amiable judge with a penchant for a friendly game of small stakes poker. The magistrate rambles on about his own calling to the legal profession (despite a lifelong disconnection from a family of rabbis) before anteing up some grub stakes to his sweet-talking, sad-puppy disciple for the expected showdown with KGB. The now ex-pupil realizes his future lies outside the law and in the draw of the cards. At this point, it becomes a rooting match between the pretty boy and the cookie monster, and it doesn't take much imagination to figure out who wins. You don't.
---
Contents | Features | Reviews | Books | Archives | Store
Copyright © 1999 by Nitrate Productions, Inc. All Rights Reserved.