---
Dance With Me
Review by Elias Savada
Posted 21 August 1998
Directed by Randa Haines.

Starring Vanessa L. Williams, Chayanne,
Kris Kristofferson, Joan Plowright,
Jane Krakowski, Beth Grant, William Marquez,
Harry Groener, and Rick Valenzuela.

Written by Daryl Matthews.
Choreographer Daryl Matthews obviously has an admiration for some of the better dance films of the last decade or two, and his debut screenplay in Dance With Me is a honorable homage to the 1996 Japanese art house classic Shall We Dance and the hilarious Australian parody Strictly Ballroom (1992), as well as paying tribute to Footloose, Dirty Dancing, and a obvious nod to Singin' in the Rain. All good company. All better company. There's no new ground in this romantic drama, just a re-hash remixed trifle with a Latin beat. As a television sitcom, this would have worked better: the sexual sultry dance instructor; the handsome, shy young immigrant infatuated with same; the hard-nosed, aging dancehall owner; and the quirky patrons with their own agendas. Except network execs would have cut out most of the hoofing. As a feature, director Randa Haines (Wrestling Ernest Hemingway, The Doctor, and Children of a Lesser God) tries to imbue this film and its actors with some hot salsa but there's not enough passion in the two male leads and the unrealistic rookie plot has too many holes.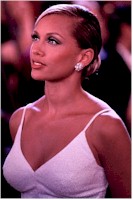 Former Miss America Vanessa L. Williams (Soul Food, Hoodlum, Eraser) puts in a pepper of a performance as Ruby Sinclair, helped immensely by her dance background and what could pass for a dance cam that goes in close for her fancy footwork and fabulous figure. Chayanne (no last name -- or is it no first name?), I am told, is a charismatic Latin American superstar, now introduced to the core U.S. market as Rafael Infante, a Cuban, mourning the death of his mother, who regains hope in Houston at the kind hand of John Barnett (a badly aging Kris Kristofferson), an American who had more than a passing relationship with the boy's mother about nine months before Rafael was born. Chayanne has indeed made a mark on the international recording scene, having sold more than four million albums (20 platinum and 35 gold records). His television soap opera Volver a Empezar was the Number 1 show in Mexico and scores well in reruns there and among the U.S. Hispanic audience. Well, I haven't heard his records or watched him on TV. Dance With Me is his first English-language feature. He's got potential to become the first Latin star since Cantiflas (Around the World in 80 Days and Pepe) with a single name to expand beyond the Spanish-tongue market. But, darn if he doesn't look like a young Ross Martin, the versatile character actor best remembered as Artemus Gordon in the 1960s series The Wild Wild West.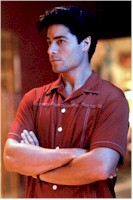 Rafael is the fish out of water, a stranger in a strange land of Lone Star beer and big cities. The trepidation he exudes upon his arrival in Texas is softened by his acceptance by his new family, particularly those that stock the Excelsior Dance Studio, a nearly rundown workshop owned by Barnett but supported by regulars Bea Johnson (Joan Plowright), a beautifully aging Brit; dedicated blonde-haired dancer Patricia (Jane Krakowski, better known to you as Elaine Vassal on Ally McBeal); humorously self-important instructor Stefano (William Marquez); Jewel Lovejoy (Beth Grant), the power behind the throne; and Michael Michaels (Harry Groener), Ruby's struggling partner.
All are preparing for the 22nd World Open Championship, four weeks hence in Las Vegas. Some have their days, others don't. Rafael, hired on as the handyman, is the new kid on the block, destined to be in the spotlight a month later. Against competition that has been preparing for this event for years. With Ruby paired off with her arrogant ex-partner and father of her young son. Believable? Not really, but the director whisks you along at a fairly quick pace that you hardly notice. Hey, the music works, the dancing's exciting, and I get the feeling that the actors and the crew put a lot of heart into this little picture.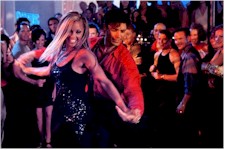 No, this is not destined for blockbuster status as it opens on a moderate 1,500 screens against Wesley Snipes (2,200 prints of Blade), 1,800 copies of Dead Man on Campus, and more than 2,800 issues of Wrongfully Accused. But other than last week's How Stella Got Her Groove Back, this is the only new love story out there and I presume Sony Pictures is gearing it's campaign toward the romantically inclined. That's not to say that this film can't find it's audience. I wish it well and hope that some of you enjoy it more than I did. We critics tend to hold films up to a microscope while you viewers enjoy the distance. And it's a heck of a lot better than some of the other crap out there. This is a adequately enjoyable date flick, a lesser semi-precious gem.
---
Contents | Features | Reviews | News | Archives | Store
Copyright © 1999 by Nitrate Productions, Inc. All Rights Reserved.