---
Wild Wild West
Review by KJ Doughton
Posted 16 July 1999
Directed by Barry Sonnenfeld

Starring Will Smith, Kevin Kline,
Kenneth Branaugh, Salma Hayek,
and Ted Levine

Written by S.S. Wilson, Brent Madock,
Jeffrey Price and Peter S. Seaman
Wild, Wild West joins The Avengers, Hudson Hawk, The Last Action Hero, Hook, Willow, and Legend as an elaborately overpriced, over-hyped, and overproduced shell of a movie that will make history only as one of the screens more self-indulgent box-office bombs. It's got all the trimmings a studio green-lighting can buy, but there's no main course. Watching Wild, Wild West is the cinematic equivalent to a night of dining at Planet Hollywood: you take in the garish, noisy atmosphere only to find that the food sucks. Oh, sure, it will fill theaters during the all-important opening weekend, but filmgoers are wising up to half-baked concepts unwisely brought to light by would-be auteurs turned industry hacks (Penelope Spheeris, this means you). Will Smith might have a playful energy during his current acting phase as a Nick Cage-style action hero, but he could use another turn like his early Six Degrees of Separation turn as a gay con man to keep this one-time Fresh Prince fresh. Meanwhile, Barry Sonnenfeld's brilliant cinematography in early Coen Brothers films has given way to a more mainstream, run-of-the-mill directorial style wasted primarily on resurrected television sitcoms-turned-films. Wild, Wild West is an overstuffed vanity trip for both of these talents: a rickety stagecoach of a movie that careens through dusty plains before plummeting over a steep cliff.
Wild, Wild West begins as a man is beheaded by a sawblade: it sounds gruesome, but the same Sonnenfeld touch that tightroped between the Addams Family's goth grotesqueness and gallows humor creates a live-action comic strip from the scene.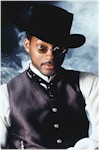 This light humor diffuses the gore, much like John Woo's dance-like choregraphy and coyote-roadrunner chases offset the grisly shootouts of his films. The following frames of the film aren't nearly as effective, as the characters of Captain James West (Smith) and U.S. Marshal Artemus Gordon (Kevin Kline) are established. In the 1960's television series on which Wild, Wild West is based, West and Gordon were secret service agents assigned to work together by President Ulysses S. Grant. In true Phantom Menace style, the prequel-style film takes on the task of explaining precisely how this unlikely twosome was established. There's a scene involving the interrogation of seedy General McGrath (The Silence of the Lambs' Ted Levine) by a drag-garbed Kline, in which the Marshal's attempts to hypnotize to former is supposed to establish the wise-cracking humor and high-tech gadgetry that will accent to rest of the film. But even in a floozie's dress and wig, Kline seems stiff and somewhat anxious: he's a far more drab comic presence than he was during his Oscar-winning turn as the dense, pretentious Otto in A Fish Called Wanda. Meanwhile, Smith has a smooth charm -- he's likeable in a Tom Hanks kinda way even when he's brutalizing lawbreakers in the post-Civil War South (although the concept of an African American federal agent materializing during this time period is unlikely, at best).
Essentially, the teaming of Smith's macho, womanizing, Eastwoodian (he's critiques by President Grant as "someone who shoots first, shoots later, and when everyone's dead, ask a few questions") West and Kline's brainy, gizmo-inventing Gordon is a failed attempt to provide some contrast. The film tries to demonstrate the at-odds nature of this coupling, before showing how the differences are complimentary. This tired foes-to-friends buddy formula can still work. It was a serviceable component in Sonnenfeld's earlier Men In Black, when the animated Smith and stone-faced Tommy Lee Jones created an entertaining chemistry -- but there's so much static thrown at the screen this time around that the relationship seems forced and wooden.
Wild Wild West's plot centers around this duo's attempts to stop the kidnapping of the president by the flamboyantly demented Dr. Loveless (Kenneth Branaugh). His lower body lost to a wartime explosion, Loveless mobilizes himself in a steam-driven wheelchair, and plots to take over the world with his elaborate arsenal of weaponry. With all the bizarre, Jules Verne-inspired steel 'n steam gadgetry surrounding him, Branaugh looks like a refugee from David Lynch's Dune. His confrontations with West are based on racist and cruel one-upmanship. "A haven't seen you in a coon's age," says Loveless. "Well," retorts west, "keeping in touch with everyone is enough to cut a guy off at the knees." By the time Salma Hayek emerges as a damsel whose scientist-father has been captured by the devious Dr. Loveless, the tone is set for similarly tacky butt 'n breast innuendo. Wild, Wild West takes its heralded place alongside American Pie, Big Daddy, and South Park in defining the current cultural zeitgeist of cynical, sophomoric wise cracking at the movies, in which cruelty emerges as the punch line of every juvenile joke.
By the time this rambling mess of a movie features its big climax, with Loveless helming a monstrous mechanical spider and leveling entire city blocks, one is tempted to reflect back on what made Sonnenfeld such a "next-big-thing" whiz-kid back in the early eighties.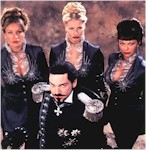 His camerawork in the 1984 Coen Brothers' Blood Simple remains some of the most imaginative and exciting in film history. In one scene, a woman's frozen terror is converted to a fight-or-flight getaway when a thrown newspaper rattles a screen door. In another, an injured man attempts to flee from an automobile as a shovel-wielding assailant follows him, with break lights illuminating the hunt in a sickening red haze. Sonnenfeld's twisted, lurching, fish-eye camera images would go on to haunt Raising Arizona, Miller's Crossing, and Throw Momma From the Train before he used a more discreet style for Big, Misery, and other mainstream fare. By the time Sonnenfeld graduated to directorial duties on such recent hits as The Addams Family and Get Shorty, he'd continued to mesh a trademark cinematography "look" with more commercial projects. However, it was always his subtle humor and economical use of special effects that gave an edge to his work. Wild, Wild West, with its raucous mishmash of loud, lumbering dialogue, effects, and music (including a sad, marketing-as-usual tie-in rap song performed by Smith), is a lesson that less is often more. Fortunately for Sonnenfeld, it's not too late to hitch his train onto a kindler, gentler track.
---
Contents | Features | Reviews | Books | Archives | Store
Copyright © 1999 by Nitrate Productions, Inc. All Rights Reserved.