Contents | Features | Reviews | News | Archives | Store
---
25th Seattle International
Film Festival (1999)
Films Caught ...
Posted 18 June 1999
---
Autumn Tale (Conte D'Automne, France, 1998, 110 minutes)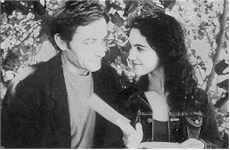 Appropriately refocusing his sublime storytelling talents on the matchmaking efforts undertaken by a group of 40-somethings in the Ardeche, Drome and Vaucluse regions of the Rhone Valley, French master Eric Rohmer's first movie since 1996's teen romance A Summer Tale (itself never properly distributed in the United States) concludes his quartet of films named for the seasons that began with 1989's A Tale of Springtime and continued with A Tale of Winter in 1992. Lifelong best friends Magali (Beatrice Romand, Laura in Claire's Knee) and Isabelle (Marie Riviere, who had a small part in Perceval) find very different paths to love when the latter, secretly screening lonelyhearts candidates for the former, falls for the suave Gerald (Alain Libolt). Meanwhile, Magali's son's boyfriend Rosine (Alexia Portal) has her own ideas. Those new to Rohmer are urged not to miss this witty, literate film, while those who cherish the insightful, soothing, poetic realism of the filmmaker's magnificent oeuvre are already in line ahead of you (that is, if they haven't already moved to Avignon). [Click here to read the full review]
---
The Basement and the Kitchen (USA, 1999, 102 minutes)
There's no need to look into this basement. One of the ten new films in juried competition for the American Independent Award, this debut from writer-director-actor David Fickas finds the young auteur in way over his head.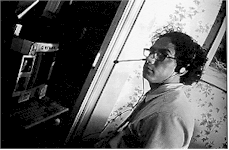 An interesting writer and a passable director (on a budget so low the sets occasionally shake with the exertion of the action), Frickas' crucial mistake was in casting himself as Lloyd Proffit, an intolerably whiny and self-absorbed 20-year-old who is so convinced of a government plot against him that he refuses to come out of the cellar. For the first half-hour or so the film stays there too, and it looks as if it'll never come out either. Finally, in the movie's one genuinely interesting Truman Show-inspired twist, events among a group in the kitchen reveal that maybe Lloyd was right to be paranoid. Comedienne Mo Gaffney is passable as Lloyd's "Mom" (ironically, she was also in the Jim Carrey movie), but what little emotive energy the movie manages to generate comes from an actor named Luiggi Debiasse as a mercurial computer operator. To reveal more would spoil whatever surprise is possible after the initial 30 minutes, but suffice it to say that the film's twist is more than offset by a style best described as "primitive."
---
Besieged (L'Assedio, Italy, 1998, 93 minutes)
Since his 1987 epic The Last Emperor won nine Oscars (including Best Picture, Best Director and Best Adapted Screenplay), Bernardo Bertolucci has favored epic sweep over the politically-charged intimacy of his early work -- a shift that has proved as controversial among the critical intelligentsia as it was undoubtedly profitable for the director.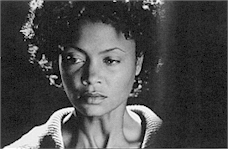 Now, after the transitional feel of Stealing Beauty, Bertolucci has once again polarized the critics, and he's done it, ironically, with this intimate chamber drama, expanded from its origins as a one-hour production for Italian television. In an antique-stuffed house on a side street in Rome, reclusive pianist-composer Jason Kinsky (David Thewlis eccentric even for him) rents his basement room to Shandurai (luminous Thandie Newton), a political refugee studying medicine. These two exiles couldn't be more different, yet his sudden declaration of love and her seemingly impossible condition for its implied consummation spark a series of provocative and metaphor-laden confrontations. As this tumultuous century draws to a close, one of Italy's most vital filmmakers returns from his own exile, an artist at once transformed and refocused.
---
The Children of Chabannes (USA, 1999, 92 minutes)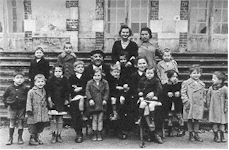 As research on the Holocaust accelerates, films on the subject move away from the camps themselves to tell inspiring regional stories. During the years 1939 to 1943, Jewish children, age 2 to 17, from Germany, Austria, Poland and even elsewhere in France, were sent to a converted chateau in the remote southern agricultural village of Chabannes, one of 15 such refuges run by OSE, the Jewish social service and health care organization. There, under the rallying cry of "reflechit, travaille, s'amuse!" ("thinking, working, having fun!") the children were shielded and taught by a remarkable group of brave instructors -- one of whom remembers receiving the following advice: "There are enough engineers, but there are no Jewish gym teachers in France." Co-director Lisa Gossels' father is one of the many surviving children of Chabannes interviewed during a 1996 reunion, supplemented by remarkably vibrant photographs and drawings from a 170-page journal they created in 1942. "I prefer to live like this and be stronger than they are," one remembers telling a fearful playmate. And so they did, and so they are.
---
Creature (USA, 1999, 64 minutes)
Parris Patton is a New Jersey native who, after stints as the head of film production for Prince's Paisley Park Studios and director of concert films and music videos, moved to Los Angeles and took up residence near an intersection known as "transvestite hooker central" (actually Santa Monica Boulevard and La Brea Avenue).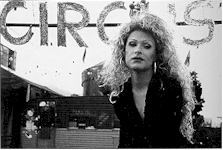 One evening his curiosity got the better of him and he wandered over with a small film crew. Out of a chance introduction to Stacey "Hollywood" Dean, Creature was born. A North Carolina refugee, Stacey was born Kyle Dean but fled his rural family and the nickname of the title for regional fame as one of the flamboyant stars of Club Arena in Hollywood. Not exactly a transvestite, Stacey is more what is becoming known as transgendered, a biological man who lives as a woman and is taking hormones to develop breasts. For the next four years Patton followed Stacey's progress, culminating in a visit home to visit a forgiving mother and befuddled father. For the purposes of documentary Stacey is a satisfyingly conflicted creature whose steely and honest resolve is tempered by a somewhat obnoxious personality. Creature is culled from 40 hours of footage, and, at 64 minutes is what Patton calls "when it was done." This is a refreshing perspective that has resulted in a movie both pithy and involving.
---
Dance of Dust (Iran, 1992-1998, 73 minutes)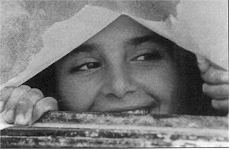 Filmed in 1992 but shelved until 1998 due to scenes showing the dismantling of religious icons, the nearly wordless Dance of Dust is full of wondrous, sinister, vaguely threatening imagery that will haunt the viewer for days. At a windswept, remote Iranian brickworks, the wild-eyed and solitary young Ilia is drawn to Limua, daughter of a seasonal worker. When the coming of rain marks the end of the brickmaking cycle, Limua presents Ilia with an imprint of her hand in a brick. Distraught over her leaving, the boy throws the brick into a well and destroys a religious relic. Referred to by writer-director-editor Abolfazl Jalili as "the only film I love," Dance of Dust is chockablock with poetic sounds and images, from the hypnotically whispering wind and the brick furnace with a heartbeat to a floor full of babies, a toothsome local madman and the blue dust which transforms everyone into the ghostly living dead. The film is open to myriad interpretations, and once seen will not be soon forgotten.
---
Day of the Full Moon
(Dyen polnoluniya, Russia, 1998, 93 minutes)
Winner of a Special Mention FIPRESCI award from a jury of international film critics at the 1998 Karlovy Vary festival, Day of the Full Moon is a stunningly photographed series of vignettes from Russia past and present that summons the spirit of Max Ophuls' 1950 classic La Ronde,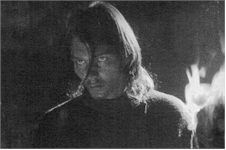 Robert Altman's American landmarks Nashville and Short Cuts as well as the time-shifting strategies of Alain Resnais (Mon Oncle d'Amerique, Same Old Song) to tell provocative and interconnecting stories illustrating the waltz of years and whim of memory. In 1948, three people -- a young man, a boy and a waiter -- are captivated during the full moon by a mysterious woman in a lilac dress. Like stones in a pond, the effects of this event ripple through the years, and grow to wash over more than 80 characters, from a disc jockey to a fairy princess to a gangster to Alexander Pushkin to a nostalgic dog. But which of these are dreams, and which represent reality? Director Karen Shakhnazarov continues his career-long focus and the intersection of past and present with this mysterious yet exhilirating mosaic of humankind, which in the end offers both seduction and satisfaction to the receptive viewer.
---
Dead Dogs (USA, 1999, 90 minutes)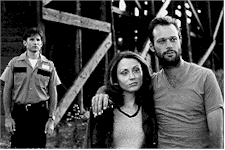 This provocative and focused low-budget thriller won the American Independent Award for best, uh, American independent film, and for good reason: at once a modestly original meditation on sibling rivalry gone awry and a crafty tribute to the kinds of 1940s and 1950s B-movies that usually found the likes of Robert Mitchum getting worked over by shifty colleagues and deceptive dames, the movie has a remarkably consistent look and tone for a film made on a budget so low the screenwriter is listed as one of three caterers. On the overnight shift of the morgue-quiet and apparently remote Driftwood Inn, perpetually pensive security guard Tom Kale (first-time actor and Noah Wyle lookalike Joe Reynolds) splits his time between an ongoing affair with married maid Diane (Suzanne Carney) and chess'n'chatter with desk clerk Gordon (John Durbin). This desultory existence is interrupted and forever changed by the arrival of Tom's brother Derek (Jay Underwood), a swaggering, homesick petty thief with his sibling's former girl Carmen (Margot Demeter) in tow. The pair cause Tom to at once come alive with hope and sink into since-discarded bad habits, resulting in an ill-advised caper that goes inevitably very wrong. Montana native Clay Eide has his material, cast and crew working in pleasing unison, with uniformly good acting of a rumination-filled script sublimely enhanced by cinematographer Don Devine's hand-held black and white photography and a nicely textured score by Alan Koshiyama. While not meaning to damn with overpraise, the dearth of mature Amerindie product of late makes Dead Dogs a regionally produced phenomena to watch.
---
Divine
(El Evangelio de las Maravillas, Mexico/Argentina/Spain,
1998, 112 minutes)
"Someday," wrote Luis Bunuel of his one-time assistant, "I will make a quote about Arturo Ripstein that will make mysteries tremble."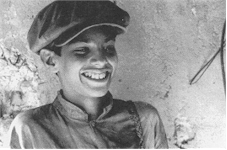 Among the world's most gifted and important filmmakers , Ripstein has made his most audacious, provocative and Bunuelian movie yet. In the shadowy fantasy world of New Jerusalem -- as if the sets and extras of a 1950s Hollywood biblical epic had been pressed into service for a mammoth yard sale -- Mama Dorita (Katy Jurado), who cheats at dominos, and the tippling, movie-mad Papa Basilio (Francisco Rabal), preside over their "fish," societal outcasts who have been drawn to their millennial mishmash of rituals and fetishes from various religions peppered with stuff they've just made up ("electricity is the throat of God," says Papa, snatching away a new recruit's Walkman). Apparently based on an actual Mexican sect of the 1970s, New Jerusalem was, wrote Ripstein and long-time collaborator Alicia Paz Garciadiego, "a utopia ideal for the dissection by the surgical knife of the film camera." The operation is a success: trembling with mystery, Divine is an unclassifiable triumph.
---
Final Rinse (USA, 1999, 92 minutes)
Erratic but genial, Final Rinse is an effort to marry the cheerful stupidity of modern American screen comedy to a kind of benevolent eccentricity: think Naked Gun directed by John Waters.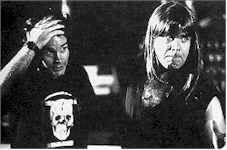 An actor named Terence Goodman plays Manhattan detective Max Block as a demented blend of William Shatner and Mr. Peterman in his quest for the madman who is killing downtown rockers and cutting their hair (a tonsoriallectomy?). While full of steely resolve, Block is constantly threatened with tackles in the form of a green young partner, grumpy chief (Batman's original Riddler, Frank Gorshin) and a truly funny backstory that finds him fighting off the pharmaceutical residue of life as a 1960s radical. The film is full of off-the-wall cameos, including turns by John Fugelsang, Sebastian Bach, "Uncle Floyd" Vivino and Joey Ramone. If you don't know who those people are you probably won't fall under the goofy but pokey spell of this movie, which sports as an idea of fun a tongue-twisting script composed in large part of fragments of rock song titles and lyrics. Sometimes this plays as funny as it sounds, sometimes it doesn't.
---
Following (UK, 1998, 70 minutes)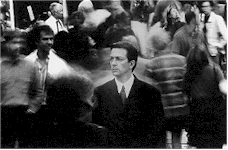 Winner of the Tiger Award at this year's Rotterdam festival and featured in New York's New Directors/New Films program, this notable feature debut is reminiscent of the recent caper movies The Usual Suspects and The Spanish Prisoner, but with a moodier, more intimate feel. Would-be writer Bill (co-producer Jeremy Theobald), possessed of an odd compulsion to follow complete strangers, finds his actions have a sinister ripple effect when one of his targets, urbane petty thief Cobb (Alex Haw), leads him into a dangerous game of robbing flats while the owners are away. Add a mysterious woman and more twists than the crooked streets and rooftops of London where the drama unfolds, and the result is a complex and provocative film about the mysteries of personal space and the tragic consequences of deceit and treachery. "Everybody has a box," Cobb says of the most private places where people keep their valuables, but he's also referring to those odd impulses within all of us that can only lead to trouble.
---
I.D.
(Pieces d'identites, Belgium/France/The Congo,
1998, 96 minutes)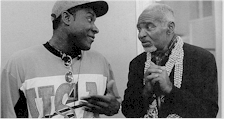 Steeped in tradition and decked out in the regal trappings of his coronation -- the "identity pieces" of the movie's original title that he wears over a sober business suit -- Mani Kongo, King of the Bakongo (Gerard Essomba, himself the grandson of a king) returns to Brussels in search of the daughter he left behind to pursue her studies on a brief visit long ago. Unbeknownst to his highness, she's been in prison but is now dating the taxi driver who picks him up at the airport -- one of many implausible but charming coincidences in this refreshing comic roundelay. Making a belated but assured return to features since writing and co-directing La vie est belle with Benoit Lamy in 1987, Congolese filmmaker Mweze Ngangura's sophomore effort was seven years in the making, rich in multileveled meaning as it flawlessly navigates provocative points of racism, tradition, class struggles, cultural identity and corruption without trivializing the royal pain or sacrificing the substantial entertainment value. That's musician Papa Wemba, star of La vie est belle, performing his own title tune at the climactic party.
---
The Last Best Sunday (USA, 1999, 101 minutes)
Anchored by an extraordinary leading performance from actress Angela Bettis as a young woman from a repressed religious family who finds love and adventure without leaving the house, this exciting and surprisingly sophisticated directorial debut from "Happy Days" actor Don Most (he played Ralph Malph) manages to overcome an underwritten subplot and unnecessary third act padding to emerge as an involving drama that subverts the cliches inherent in its story.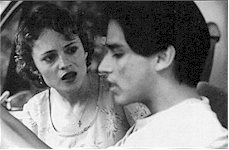 Bettis shines as Lolly Ann, who is left to her own devices over a weekend when her fundamentalist parents travel out of town. While this is happening, young Mexican dishwasher Joseph (Douglas Spain), on the run from a rash act of shocking violence in retribution for his treatment at the hands of a couple of crachers, breaks into Lolly Ann's house to avoid capture by the local sheriff (William Lucking), who has only until Monday morning before giving up his job to newly-elected deputy Craig Wasson. At this point Karen Kelly's script shines, as the two young people from entirely different worlds bring a fresh spin to an overused situation. Bettis in particular is hypnotically intense, commanding center stage with a series of revelatory monologues. It is only later in the movie, as the sheriff's search brings him closer to his prey and the new lovers make a break for freedom, that the movie loses its way. Until then, The Last Best Sunday is something special, a familiar story given new life by a director who has clearly embraced television's often misunderstood and underused knack for combining drama and comedy.
---
Love Happens (USA, 1999, 88 minutes)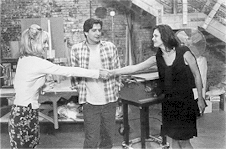 More of a substandard TV movie than an involving feature, this grating comedy manages to misuse the talents of both Megyn Price (late of the late "Lateline") and "The Drew Carey Show"'s Jenica Bergere as a spunky Los Angeles single with a fear of commitment and the eccentric gal pal who cheers her on in a hesitant relationship with good-looking carpenter Mike (Ken Marino). This is the kind of whiny, smug Amerindie that gives the movement a bad name, a pat, unfunny comedy with more production values than brains. A wise-cracking young actor named Ryan Bollman provides a few laughs as Mike's advisor on affairs of the heart, but none of the people here are likely to provoke an ounce of empathy from any but the most indiscriminate audiences, dooming the project to exactly the kind of television and video graveyard it should have been made for at the outset.
---
Nothing (Nic, Poland, 1998, 74 minutes)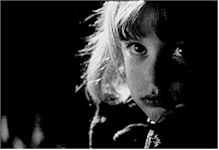 A young woman with three beautiful little children finds herself pregnant again. Terrified that her cruel, boorish husband will leave her if she reveals her condition, she begins to explore her options via medical and clerical advice but finds herself unhappy with what she learns -- and increasingly desperate to hide the truth. This is Polish writer-director Dorota Kedzierzawska's third feature; her second, Crows, as well as her 1991 feature debut Devils, Devils are both available on home video and highly recommended. Working once again in concert with producer/cinematographer Arthur Reinhart (who also shot Crows), Kedzierzawska presents her provocative story (as with her other films slanted strongly towards the perceptions and activities of children) in a tinted widescreen world of light, texture and vertiginous angles that mirror the protagonist's anguished inner state. The conflicted mother's decision and its consequences make Nothing a tragedy, but its often claustrophobic style and a stylized, starkly light-dark look give it an unsettling yet extraordinary beauty that serves to subtly underscore the real calamity at the heart of the narrative.
---
The Powder Keg
(aka Cabaret Balkan, Bure Baruta,
Yugoslavia/France/Greece/Macedonia/Turkey,
1998, 102 minutes)
To the exclusive list of visionary, subversive films made from innovative, politically-charged urban theater pieces (Ettore Scola's Le Bal and Reinhard Hauff's Linie 1 come immediately to mind; there are more), add The Powder Keg, the violent, funny, profane and dazzling new movie from veteran director Goran Paskaljevic. Adapted from a stage play that clocks 24 harrowing hours in the underbelly of urban Belgrade and injected with a strong but subtle dose of political pertinence by the filmmaker -- the movie is set on the eve of the Dayton Peace Accord in late 1995 -- these short cuts comprise a crazy and combustible daisy chain of coincidence, as strangers and friends alike ricochet off each other in an extended ballet of misunderstanding, pain, frustration and anger that begins with a minor traffic altercation and escalates to murder.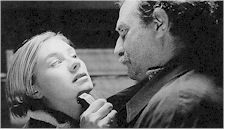 A meek citizen erupts when a careless teenager involves him in a fender bender; a 17-year-old Bosnian Serb refugee rebels against his idealistic parents and becomes enmeshed in a shady drug scheme; two burly boxers square off in their gym's shower, with tragic results; an agitated teenager hijacks a bus for a brief midnight joyride; a returning immigrant tries to woo back a former lover. The huge, all-star cast of iconic types -- pawns, really -- seem driven by a particularly cruel fate, a sensation heightened by "Boris, the esoteric cabaret artist" who opens and closes the film (in fact, the American distributor has changed the title of the film to Cabaret Balkan -- not because of the recent war but a flap with Kevin Costner, who owns the original moniker). Although patches of the film are rough going (which is as it should be), Paskaljevic's point is that just beneath the confusion and hair-trigger mayhem, these honest, good-hearted people remain defiantly human (a self-confessed "shameless optimist," the director affirms "it is in that humanity that I place my hopes"). Explosive, unpredictable and passionate, The Powder Keg -- winner of the European Film Academy's 1998 European Critics Award, Best Film awards from three festivals (including Venice, where it received a 10-minute standing ovation) and Yugoslavia's official submission to the Academy Awards -- is urgent, relevant cinema of the highest order.
---
The Red Violin
(Le Violon Rouge, Canada/Italy/UK/Austria,
1998, 126 minutes)
If it's true that certain films set the tone, theme, tempo and mood of a festival, then on the strength of this stirring international epic festival audiences are in for a treat as the millennium approaches.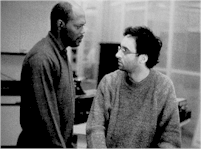 Winner of eight Genie Awards (Canada's Oscar) and the gala opening night presentation at last fall's Toronto festival, this new film from the director of Thirty-Two Short Films about Glenn Gould is bold in structure and thoroughly enchanting in its musical sweep. Beginning at a tension-filled auction in contemporary Montreal attended by New York-based musical historian Charles Morritz (Samuel L. Jackson), the film jumps back in time to follow the title instrument across five countries and three centuries: its tragedy-tinged creation in Italy in 1681 to the Austrian child prodigy who plays it in 1792; the tempestuous London virtuoso whose suicide sends it to mainland China and a small role in the cultural revolution; and finally, as the focus of a dramatic mystery in Montreal. Along the way, everyone who comes in contact with the red violin is changed by it. Not surprisingly, John Corigliano's music, performed by the London Philharmonic Orchestra with solo violinist Joshua Bell, is the beating heart of the film, but the intriguing structure of Girard and Don McKellar's ambitious screenplay will also hold the viewer in thrall. In many ways as perfect an opening night presentation as any lover of movies and music could ask for, The Red Violin is powerful, thrilling commercial cinema with the soul of an art film.
---
Run Lola Run (Lola Rennt, Germany, 1998, 76 minutes)
Winner of the 1999 Golden Space Needle Award (determined by audience balloting), Run Lola Run continues its remarkable run of positive festival feedback. "Love can do everything," Lola's always told her low-level hood boyfriend Manni (Moritz Bleibtreu), and now she's got to prove it: nervous about collecting for his boss, he's forgotten DM 100,000 in a plastic bag on the subway he had to hop because Lola was late and now he's got 20 minutes to replace or find it.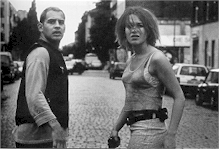 "Stay where you are," says Lola (flame-haired Franka Potente), "I promise I'll come up with something." Guaranteed to leave first-time audiences sucking wind after a half hour (about the time things really get interesting), Run Lola Run orchestrates live action, animation, split-screen, slo-mo and most every other trick in the book to spectacular effect. Nothing less than the missing link of contemporary German cinema, writer-director Tom Tykwer unifies the philosophical navel-gazing of the 1970s to the beat-driven 1990s aesthetic, creating a mischievous yet deadly serious time-shifting emotional action epic that, like Rashomon and Breathless and Muriel and O Lucky Man! and Groundhog Day and Pulp Fiction before it rewrites the rules of narrative storytelling with a propulsive blast of pure, exuberant cinema. Tykwer's really come up with something: Run Lola Run is a millennial milestone.
---
Sekal Must Die
(Je treba zabit Sekala,
Czech Republic/Poland/Slovakia/France,
1998, 109 minutes)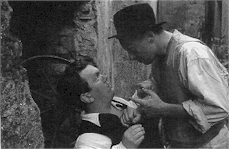 During the hot summer of 1943 in the devoutly Catholic Moravian village of Lakotice (Czech for "stingy"), it falls to the new stranger, Protestant blacksmith Baran (the word for "ram"), to rid the town of Nazi collaborator and unrepentent bastard Sekal (which means "he was cutting"). Following his lauded 1996 drama Forgotten Light, director Vladimir Michalek continues his symbolic yet restrained probing of religion, complicity and betrayal in a rural setting, with the unexpected but triumphant addition of formal genre elements (gorgeous vistas, calibrated performances) straight out of Shane or early Clint Eastwood. "Evil has no weak spots," says the town's conflicted priest before the ritualized and inevitable finale, and neither does this provocative, masterful exploration of faith under stress -- the Czech Republic's official Oscar submission -- from one of the country's most accomplished contemporary filmmakers.
---
Sweet Thing (USA, 1999, 115 minutes)
A kitchen-sink melodrama of ruthless politics and shady histories given a Gothic gloss, this product of the Austin, Texas-based Jam Pictures collective is a wildly uneven, overlong new American independent film that has lots of ambition but little focus and restraint.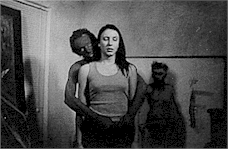 Emaciated, shaggy young actor Jeremy Fox is Sean Fields, a reclusive Texas painter who channels dim memories of childhood abuse at the hands of his politico father into disturbing, vivid paintings that incur the old man's wrath as he prepares a run at the local congressional seat. When the attractive but mysterious Hannah enters Sean's life, things begin to spin out of control and the back-room nature of the region begins to manifest itself. One of the cockier presences in Seattle, director Mark David brings the same confident tempo to the film, even when he's undercut by amateurish acting and an ambition that results in the picture being at least 10 minutes too long. Still, the early scenes of Fox at the canvas are very good, and the score by David and bandmate William Tabanou sets a palpable mood. One of those first films in which the maker's reach exceeds his grasp, Sweet Thing can't quite overcome a certain naivete that in the end prevents an audience from becoming caught up in the southern stew.
---
Tom's Midnight Garden (USA, 1999, 107 minutes)
The only thing more uncomfortable than a veddy proper British movie that can't decide whether it's a children's fantasy or a sentimental adult fable is a veddy proper British movie that can't decide whether it's a children's fantasy or a sentimental adult fable -- made by a bunch of Americans.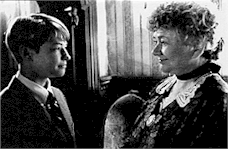 Such is the case with Tom's Midnight Garden, which was adapted from the apparently beloved Philippa Pearce book by Willard Carroll (director of the recent ensemble drama Playing by Heart). Singing sensation Anthony Way gives a wooden, uncomfortable performance as Tom, a 1950s teen sent to his childless Aunt Gwen and Uncle Alan's house to avoid a sick brother. Shortly after his arrival Tom discovers that each night at midnight the huge grandfather clock in the downstairs hall strikes 13, which is some sort of cue for the dingy, cluttered back yard to transform itself into a verdant garden, complete with 1880s playmate Hatty (Florence Hoath), a lonely orphan. Unfortunately, the scenes between Way and Hoath, which make up the bulk of the picture, are stilted and fatally slow for a movie presumably aimed at a younger audience. Merchant-Ivory refugees Greta Scacchi and James Wilby play the adults with skill but no appeal, and the movie is stolen by Joan Plowright, who manages in her one brief speaking scene near the end to not only steal the movie out from under everyone but give it a warmth it so sadly lacks for the remainder of its 107 minutes.
---
The Wounds (Rane, Yugoslavia/France, 1998, 103 minutes)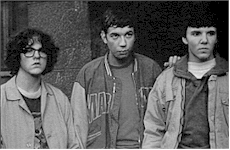 Drawn from real events, this new and very different film from the director Pretty Village Pretty Flame, at first vicariously exhilirating and monstrously funny, follows five years in the lives of Pinki and Kraut (fierce newcomers Dusan Pekic and Milan Maric), amoral teenagers raising the worst kind of hell in a Belgrade bereft of order in any form. Under the tutelage of established crook Dickie (producer Dragan Bjelogrlic), they realize their short-term goal of appearing on the television talk show "The Street Pulse" (popular with the city's criminal element). Yet a violent argument involving the provocative metaphor hinted at in the title leads to a showdown at once horribly bleak and achingly inevitable. Immensely popular in Belgrade despite a publicity ban coordinated by a furious Serbian government (the movie outperformed Titanic anyway), "this is a story," says writer-director Srdjan Dragojevic, "about internal destruction, the breakdown of the moral value system, the destruction of ethics, the vanishing of all faith in the future." The Wounds is also about the power of cinema to present social crises as fearless art.
---
Xiao Wu (China, 1998, 107 minutes)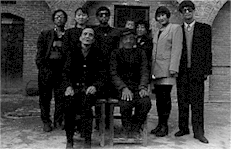 There comes a point during this gritty social parable where the eponymous felon, a beleaguered pickpocket who is eventually insulted by his about-to-be married childhood partner in crime, ditched by his lapdancing girlfriend, rejected by his family and hounded by the reform-minded authorities, visits a public bathhouse. Standing naked in a scene both metaphorically powerful and culturally significant (full-frontal male nudity is a very rare thing in Chinese films), the young man is at once a victim of his surroundings and a martyr to the Job-like vicissitudes of his sorry life. Recent Beijing Film Academy graduate Jia Zhang Ke has stocked the cast with non-professionals from his economically depressed home town of Fengyang (Shanxi province), giving the film a pungent verisimilitude enhanced by the raw, realist style. "This is a film about our worries and our uneasiness." He has written of this acclaimed work. "Having to cope with a disfunctional society, we take refuge in solitude which is a substitute for dignity… It is finally a film about my native town and about contemporary China."
---
---
Contents | Features | Reviews | News | Archives | Store
Copyright © 1999 by Nitrate Productions, Inc. All Rights Reserved.