Eddie Cockrell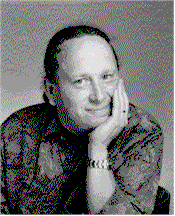 Eddie Cockrell is a film critic, public speaker and consulting programmer based in Sydney, Australia. For showbiz bible Variety, he reviews new international films from the Berlin, Karlovy Vary, Montreal and Toronto festivals, as well as notable DVD releases and the occasional Hollywood movie.
He also writes the U.S. report to the annual Variety International Film Guide, reviews from selected festivals for indieWIRE, and pens catalogue notes for the annual "New Films from Germany" series at New York's Museum of Modern Art and the Visions cinema/bistro/lounge in Washington DC.
Cockrell has contributed program notes to festivals in the Hamptons, Philadelphia, Sydney and Washington DC, serving as Senior Catalogue Editor and contributing programmer for Filmfest DC since its inception in 1986. On any given spring or fall weekend he might be found presenting sneak screenings of new films up and down the East coast with Harlan Jacobson's Talk Cinema or the Key Sunday Cinema club, and has also spoken with new independent and/or foreign fare at Baltimore's Charles Theater and the late, great Biograph rep house in Washington.
From 1992 to 1996 he was Executive Director of the non-profit Americas Film Festival Foundation, which presented new Spanish- and Portuguese-language film events around the world. Subsequently, he served as Programmer/Project Coordinator for "Films from the Americas," mounted by the Cultural Center of the Inter-American Development Bank in Jerusalem and Tel Aviv, Israel.
For many years Cockrell served as the Associate Director of Film Programming for The American Film Institute National Exhibition Programs, planning and presenting film and video series at the AFI's former year-round repertory cinema at Washington's Kennedy Center. He researched and wrote Preview, the theater's monthly film schedule. Highlights include previously banned films from 1980s Romania, an ongoing weekly examination of new American Independent Cinema, contemporary German films and tributes to film personalities (including John Cassavetes, Greta Garbo, Satyajit Ray, Fred MacMurray, Barbet Schroeder, Marlene Dietrich, Ken Russell and the gangster in film).
A veteran of television, radio and the classroom, he has been film critic for the Fox affiliate in Washington DC (Fox WTTG 5) and WGMS radio in Washington, also writing the "Film Talk" column for The Washington Post for a time. He has also appearing on the Panorama (WTTG), John McLaughlin (CNBC) and WorldNet (USIA) TV programs, as well as the Derek McGinty (WAMU FM), Voice of America (USIA) and Morning Papers (WHFS FM) radio broadcasts. For the Smithsonian Institution's associates program he has curated the screening and discussion programs "Understanding the Art of Film," "Comedy Today" and "The Hollywood Musical."
A Washington native, Cockrell holds a Bachelor of Arts degree in Literature/Cinema Studies from The American University. From 1990 to 1993 he served on the adjunct faculty there, teaching the history of the motion picture and other core undergraduate and graduate courses.
He worked on the "Filmmaking in America" project for the United States Information Agency from 1982 to 1989, researching and writing panels for the exhibit and traveling to Athens, Belgrade, Bucharest, and Bratislava to train the on-site tour guides and speak about the history of Hollywood with local media, academics and exhibit visitors. In 1992 he served as a juror for the inaugural edition of the Festival of First Films in Bratislava, (former) Czechoslovakia.
To see Eddie's full resume, click here.