---
The Mask of Zorro
Review by Elias Savada
Posted 17 July 1998
Directed by Martin Campbell

Starring Antonio Banderas, Anthony Hopkins,
Catherine Zeta-Jones, Stuart Wilson, Matthew Letscher,
Maury Chaykin, Pedro Armendariz Jr., and L.Q. Jones.

Written by Terry Rossio & Ted Elliott and John Eskow.
'Z wonderful, 'z marvelous, 'z Zorro should have you humming that old George Gershwin favorite, as you're guaranteed a rollicking good time filled with zesty swordplay, swashbuckling set pieces, spicy romance, and, heck, even a reasonably plausible storyline. The only thing missing is Sergeant Garcia, that rotund fellow in the old television series. The three leads give spirited performances and the foxy Alejandro Murrieta (Antonio Banderas) and beguiling Elena (Catherine Zeta-Jones) have a steamy chemistry – newly mixed with broad batches of humor and gusto by screenwriters Terry Rossio & Ted Elliott and John Eskow – expounding on Zorro's legendary character as a dashing Robin Hood/Scarlet Pimpernel born in Johnston McCulley's 1919 tome The Curse of the Capistrano. They ooze sensuality (expect Zorro perfume and aftershave in department stores soon), and when they're dancing the sultry tango, you can feel members of the audience self-igniting from the sparks flying off the screen, their corn seeds popping in the flames. Imagine Arnold and Tia when they took to the dance floor in True Lies, then multiple by 100. Some of you may barely remember Welsh-born Zeta-Jones as the evil lynchwoman in The Phantom or as the lead in The Titanic. No, not that Titanic, but the 1996 TV version with Peter Gallagher and George C. Scott. But with Zorro, Zeta-Jones shows more than passing grades – here's a sizzling and brainy beauty destined for stardom. Banderas shows ample buffoonery, charm, and bravura when he not eyeing the object of his affection, providing dashing swordsmanship, or (hilariously) trying to bond with his horse.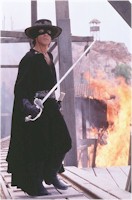 Our latest masked heroes (yes, two for the price of one) have been previously portrayed on big screen and small by the likes of Douglas Fairbanks, Sr., Tyrone Power, Guy Williams (you can catch these every night on The Disney Channel), Alain Delon, and Frank Langella. The first twenty minutes has Zorro/Don Diego de la Vega (Anthony Hopkins) setting up the comeback for the remaining 110 minutes, with a tarzanesque sequence revealing the sinister proclivity of the dastardly Don Rafael Montero. Stuart Wilson's vision of this notorious self-serving figure was the only weak point in the film, coming across as a combination poor man's Richard Chamberlain/Herbert Lom. Having worked with director Martin Campbell on No Escape (1994), Wilson is a serviceable choice. But, still, the role begs for the same sinister spin that Alan Rickman gave Robin Hood. The set up for the "new" Zorro falls to a large belief in mystical coincidence, much Saturday afternoon serials did fifty years ago. The orphan Alejandro is, 20 years after having saved the cowled crusader from certain death, discovered carousing by the aging Don Diego and enlisted to fight the scheming Don Rafael and set all wrongs right. The dour and mournful elder Zorro proceeds to educate the youngster in the ways of the sword and the heart, much like Batman teaching Robin a few years back. But heck, since this movie is based on legend, the writers can take certain liberties and you, the viewer, should say job well done.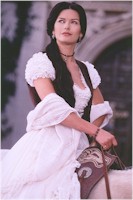 Matthew Letscher is American Captain Harrison Love, a smarmy second foil (two zorros = two villains) that you'd love to smack on his oily head a few times. He's a blond-haired killer who, no-doubt, will get the point by film's end. Other smaller but key roles are filled by veteran Mexican actor Pedro Armendariz, Jr. and by the slap happy L. Q. Jones, the latter as Three-Fingered Jack. I'm not sure I'd call this an ensemble piece, but the actors all seem to get behind their roles gallantly and gleefully.
Martin Campbell, last behind the megaphone for 1995's GoldenEye, does a masterful job handling the period pyrotechnics and blocking his actors before the camera as they trade barbs and barb swords. Kudos to Paul Meheux's sun-drenched cinematography (lovely locations in Mexico subbing for an American West of bygone days), Cecilia Mantiel's glorious production design from hacienda to hideout, Graciela Maxon's stunning costume design showing our young leads in fine form, and James Horner's stirring soundtrack. The filmmakers playfully send up the E.T. bicycle/moon image early on in Zorro as homage to Steven Spielberg, who adds his illustrious name to the show as one of the film's executive producers. And it was Spielberg who brought Zeta-Jones to Campbell's attention. Thanks Steven!
The film screams for a sequel and I, for one, second that with a snappy touch and en garde.
---
Contents | Features | Reviews | Books | Archives | Store
Copyright © 1999 by Nitrate Productions, Inc. All Rights Reserved.