---
Why Do Feels Fall In Love
Review by Elias Savada
Posted 28 August 1998
Directed by Gregory Nava.

Starring Larenz Tate, Halle Berry,
Vivica A. Fox, Lela Rochon, Paul Mazursky,
Little Richard, and Pamela Reed.

Written by Tina Andrews.
Actress-turned-screenwriter Tina Andrews paints a profoundly funny and entertaining picture -- a bittersweet tell-all biopic of Frankie Lymon (Larenz Tate), the late 1950s doo-wop music sensation and former lead singer of The Teenagers -- and the dynamic three wives' club arguing claims to his legacy. After the title song's revival in American Hot Wax and as a Top Ten hit in 1981 by Diana Ross, Zola Taylor (Halle Berry), the alluring female member of The Platters, brassy petty thief Elizabeth Waters (Vivica A. Fox), and unglamorous small-town schoolmarm Emira Eagle (Lela Rochon) learn of each other's avowal as queen for their days to a four million dollar inheritance. Long after their husband's fall from grace and a decade after his drug-induced death, wives 1, 2, and 3 head off to court, egged on by fortune-seeking lawyers, to grace the judge (an officious Pamela Reed) with their versions of the long-running game show I've Got a Secret. Will the real legal spouse of Frankie Lymon please stand up.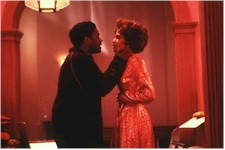 Gregory Nava, the director who last year glorified Tejano superstar in Selena (and who gathers together most of the technical staff from that effort), tells the story in effective flashback manner (including scratchy, pseudo-home moviesque footage) and with alternate perspectives of the same events. He relates the good times and bad, often with comedic touches but sometimes with jarring emotional swings that will have unsophisticated audiences laughing at inappropriate moments. The tone of the movie remains fresh, though, and the music, using digitally remastered recordings of Lymon himself, is as exciting today as it was in its heyday. The costumes (by Elisabetta Beraldo) and Cary White's production design substantially delineate the characters against each other. Bouffant skirts and strapless tops in luxurious digs for Zola; Elizabeth's authentic, generally unflattering clothes in a tenement walkup during Lymon's depressing, addictive years; and the sweet Southern trappings of Emira, with Lymon's possible comeback closely associated with the couple's plantings in the suburban backyard garden. One exuberantly recreated scene has Lymon surrounded by brightly colored go-go dancers as he appears following The Kinks on Hullaballo, one of those mid-60s television showcases of top pop artists. Concert footage, both of Lymon and The Platters, comes across very well and will have you swinging in your seat.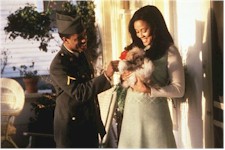 The four leads develop their high-octane roles well in this decidedly character-driven film. Tate (The Postman, Dead Presidents) may not be as youthful as the diminutive teenage Lymon, but he surrounds his role with tremendous energy and a remarkable screen presence. The sophisticated Zola and the under-educated Elizabeth have some licentious cat fights in each other's recollections over the course of the two-hour film—I haven't seen such wickedly funny wrasslin' since Krystle and Alexis mixed it up on Dynasty back in the 1980s. Emira, on the other hand, is the outsider, a quiet, demure bystander who met the unassuming bigamist years after his fame had waned and then buried him. As the ladies learn more about each other's relationship with their husband, their anger dissolves into a conditional friendship over the course of their testimony, helped along by a steady round of drinks. Additional support comes from actor/director Paul Mazursky as Lymon's slimy record agent Morris Levy and, in several scene-stealing moments, from uncontainable Rock and Roll legend Little Richard, both as himself and as played as a young man by Miguel A. Nunez, Jr.
Frankie Lymon's short but memorable rags-to-riches life, his troubled, violent mood swings, and his dynamic effect on our musical culture and the three women closest to his heart are recalled with a fascinating admiration for one of rock-and-roll's short-lived stars. Writer Tina Andrews' 15-year effort to bring this story of an extraordinary individual with a humpty-dumpty-life to the screen pays off big time. Here's one for the ages.
---
Contents | Features | Reviews | News | Archives | Store
Copyright © 1999 by Nitrate Productions, Inc. All Rights Reserved.