---
The Wood
Review by Cynthia Fuchs
Posted 30 July 1999
Directed by Rick Famuyiwa

Starring Omar Epps,
Taye Diggs, Richard T. Jones,
Sean Nelson, Trent Cameron,
Duane Finley, Malinda Williams,
De'aundre Bonds, Sanaa Lathan,
Lisaraye, and Tamala Jones

Written by Rick Famuyiwa
and Todd Boyd
During opening week for The Wood, MTV ran a game show based on the movie -- or more precisely, based on promoting the movie, as it was an MTV production. The game show was called "Playing the Wood, " all sexual innuendoes fully intended, and the premise was that contestants revealed past embarrassments pertaining to sexual activities, displays, and desires, fulfilled and not. The girls wore bikinis and big fat platforms, the boys wore trunks, and MTV VJ Ananda Lewis asked questions while in-house audience members squealed and tittered at various humiliations, presumably modeling behavior for those of us watching at home.
At intermittent points during the game, bare-tummied Ananda cut to another location where The Wood cast members Omar Epps, Taye Diggs, and Richard T. Jones came up with stories about their own real life romantic embarrassments or on-set hijinks. Relaxing with drinks and wearing designer summer-white outfits, the young-hunky stars looked predictably beguiling and routine, stars being trotted out to pitch their product. When they talked about the movie, you got to see clips, usually involving them.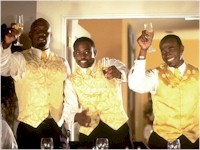 That the clips tended to show Diggs, Epps, and Jones, is significant with regard to MTV's commercial savvy, because in fact the film itself is less focused on them than on their characters as they appeared in the 80s, that is, their characters as high school students, when they are played by three other actors, Trent Cameron, Sean Nelson, and Duane Finley, respectively. Apparently, it has been determined that the prudent promotional strategy is to overlook the kids and sell the young-hunks. This suggests that the film's audience would be people remembering the 80s as the time of their own youth, an idea underlined by the introduction of each extended flashback with an appropriately nostalgia-inducing 45 on a turntable. It also suggests that the MTV appeal -- to young people who might be more interested in Taye Diggs' beautiful abs than some relatively ancient tune -- is a stretch.
The present-day story involves basic boy-bonding. In Inglewood California, Mike (Epps) and Slim (Jones) are sent by parental types to retrieve their homeboy Roland (Diggs) on his wedding day. Seems that Roland is afraid to commit to his lovely bride-to-be Lisa (LisaRaye, last seen in Ice Cube's The Players Club) and has gone on a bender. As the three engage in sober-up strategies (coffee, pizza, dry-cleaning to remove vomit from their wedding suits), they reminisce. And so the plot spins.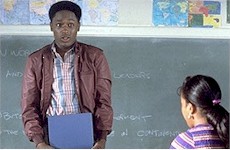 The high school adventures have to do with sex, of course, as the boys figure out how to imagine it, ask for it, and get it. Young Mike (Nelson, who is excellent, extending the promise he showed starring in Fresh in 1995) has a crush on Alicia (young version played by Malinda Williams, present day version by Sanaa Lathan). His efforts to get next to her are repeatedly thwarted by various, formulaic factors, such as their mutually exclusive social situations (he's a bit of a geek, she's the school beauty queen), her unattainableness (her brother Stacey is a serious gangbanger, played by De'Aundre Bonds) and his general awkwardness (his mom and sister catch him as he practices dancing and making out with a raggedy old teddy bear: childhood meets adolescence, with the customary embarrassments).
Mike does win Alicia over, however, with his persistence and emerging charm. And this would seem to be The Wood's central aim, to show an alternative homeboyness, one in which he rolls with his crew, doesn't shoot anyone, and gets the nice girl, as well as one less unusual than viewers of 'hood movies might guess. Written and directed by Rick Famuyiwa, based on his own high school experiences, the movie treats Mike's coming-of-age escapades gently, with humor and compassion, no bad-boy climaxes, no profound lesson to be found in street violence (though the knowledge of its existence and costs certainly hangs round the edges of what you see here).
Mike wins Stacey's respect when he distracts a cop who's pulled them over and about to find a weapon in the front seat of Stacey's car (authorities are depicted as obstacles and imbeciles, certainly not role models). With Stacey's blessing, then, Mike eventually becomes best friends with Alicia, which complicates his efforts to get in her pants, but also demonstrates his seriousness, as opposed to the carelessness displayed by Slim and Roland, who are proto-players back in the day. And yet, Mike's role modeling is less obnoxious than it might be, mostly because Nelson is so engaging and confident as a performer. The hunky boys are plainly the main draw for paying customers, but Nelson makes their appearances seem less cliche than they might have been.
---
Contents | Features | Reviews | Books | Archives | Store
Copyright © 1999 by Nitrate Productions, Inc. All Rights Reserved.