---
Varsity Blues
Review by Elias Savada
Posted 15 January 1999
Directed by Brian Robbins.

Starring James Van Der Beek, Jon Voight,
Paul Walker, Ron Lester, Scott Caan, Richard Lineback,
Tiffany C. Love and Amy Smart.

Screenplay by W. Peter Iliff
This is a marketing gem, in part due to hot young James Van Der Beek of WB TV's Dawson's Creek, a tired, er, tried but true plot line; the monstrous push of co-producer MTV (along with distributor Paramount Pictures, subsidiaries of mega-media conglomerate Viacom); and a soundtrack featuring a virtual who's who of popular music talent: Loudmouth, Green Day, Foo Fighters, Collective Soul, Fastball, Third Eye Blind, Janice Stark, Van Halen, and Simon Says. Yipes! The star is also hosting Saturday Night Live over opening weekend, so expect those demographically important teens to push this film close to the top in the short run. From a critical point of view, this is cheap zirconium garbage. A flawed piece combining the baser elements of Porky's and just about every bad sports picture of the last decade. At a preview, unruly teen girls were screaming and yakking during the whole film, their feet hanging over seats and bubble gum cracking. Me, I was cringing. I should have left at half time.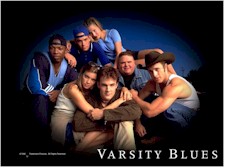 Director Brian Robbins has gone from one meat to another. His "family" comedy Good Burger (1997) trades beefsteak for oversized or muscle (-bound or -brained, take your pick) hunks pondering their next score (on field and off) in the close-knit Texas town of West Canaan, Texas, where football is religion and Coach Bud Kilmer (no relation to Val, who has his own problems with At First Sight) has been god to the Coyotes for 35 years. As played by Jon Voight, its another of his nastier roles, mixing together his crazed Anaconda riff, his role as a overbearing cop in The General (minus the Irish accent), and his over-the-top shenanigans in Enemy of the State. Think of Nick Nolte's megalomaniacal role in The Thin Red Line dumbed down and steroid-addled for high school consumption.
On the way to his team's bazillionth state title, abusive Coach Kilmer pushes his billboard-size star quarterback Lance Harbor (Paul Walker) over the brink. Too many pain numbing shots cause a season and perhaps career ending injury, prompting brainy second stringer Jonathan "Mox" Moxon (Van Der Beek) to move his butt off the bench (where he reads Vonnegut instead of the play book) into instant celebrityhood with a clutch victory for the home team. Quick cut to required T&A and beer party scenes. Rah, rah, blah.
And so it goes.
Basically the tale of a handful of Lone Star football jocks and their trials and tribulations with their hard-headed coach, their thinly-drawn parents (the fathers, of course, all having suffered for under Kilmer's despotic reign years earlier), and their girl friends (Amy Smart and Ali Larter, the latter featured as Darcy, future spokesperson for the Whipped Cream Council of America). Aside from the QBs there are bubbly Billy Bob (Ron Lester, a.k.a. "Spatch," the burger-flipping cook in Good Burger), a big ole boy whose repulsive culinary tastes might cause a wretching fit for more susceptible audiences; Tweeder (Scott Caan, son of James), a rascal who hijacks a police car and drives around naked; and Wendell (newcomer Eliel Swinton), whose dreams of NFL stardom seem dashed by Kilmer's bigoted nature. As for Mox (rhymes with obNOXious), he's heading for a scholastic scholarship at Brown and is looking to put his boring family behind him, particularly younger brother Kyle (Joe Pichler) who examines his inner religious being by dressing up as Jesus on the cross or a Malcolm X. Voight hell-raising antics might send him back into semi-retirement, but the character is so unbelievably written, I have more pity for him than shame.
Hollywood has it's Oscars, New York the Emmies, and Texas has high school football. Director Robbins was featured ten years ago in the ABC sitcom "Head of the Class." He's still stuck in high school, pampering to the testosterone- obsessed crowd. Varsity Blues forces a fumble on the big screen and a game ending penalty for offensive behavior. If you're a hyperactive, oversexed teenager, go and "enjoy" Varsity Blues. Anyone else in need a football fix, the Super Bowl is just around the corner, or rent The Waterboy from your local video outlet. Frankly, this is one forgettable film.
---
Contents | Features | Reviews | Books | Archives | Store
Copyright © 1999 by Nitrate Productions, Inc. All Rights Reserved.