---
At First Sight
Review by Elias Savada
Posted 15 January 1999
Directed by Irwin Winkler.

Starring Val Kilmer, Mira Sorvino,
Kelly McGillis, Nathan Lane, Bruce Davison,
Steven Weber and Ken Howard.

Screenplay by Steve Levitt, based on the story
"To See and Not See" by Oliver Sacks
Of the four movies opening cold and wide this mid-January weekend (the others being In Dreams, Varsity Blues, and (the unscreened for the press) Virus, At First Sight is the best of the bunch, but it's a weak crop and the current box-office leaders (and the other limited end-of-'98 releases breaking wide) should maintain a distinct dollar advantage over the rookies. Val Kilmer and Mira Sorvino star in this wintry, truth-based, Charlyesque tale of star-crossed lovers about the titular sense lost, regained, and then lost again, i.e., what ends up a double-negative-nonsense. If you happen to catch this one, that déjà vu feeling you have bears a passing resemblance to Awakenings, also based on a Dr. Oliver Sacks story. This overlong baby has chick flick written all over it, but its over-sentimental and sappy gloss may send those of you (like myself) who have been housebound because of ice storms here in the East running back to the comfort of a warm fire and a good book. This will doubtlessly be hailed by MGM studio flacks as one of the best romantic dramas of the year. That's not really a lie, but do remember that At First Sight is the inaugural and only romantic film of the year. Give it a week or two and many of you won't remember this title until it pops up in the video bin a few months down the road.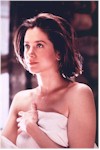 Virgil Adamson is a handsome, visually impaired masseur working in a upstate New York spa; Amy Benic is an stunning, overworked Big Apple architect in search of quick fix massage therapy. Kismet strikes quickly as Virgil lets his fingers do the walking on Amy's back, his soothing voice and strong digits bringing tears to her doe-ful eyes, but their psychological baggage falls from the overhead bins over the next two hours, until the Hollywood love clouds spout a typical silver lining. Virgil is a carefree sort who sends his lady clients' hearts a-flutter, then practicing ice hockey (well an 0-on-1 at least) in his spare time, using his playing stick in lieu of a walking cane. He seems well adjusted aside from his over-protective, spinster sister and next-door neighbor Jennie (Kelly McGillis), left to care for her younger sibling in the absence of caring parents. She turns green-eyed ballistic when Amy walks in her brother's door and starts rearranging the furniture and sorting through his Braille editions of Playboy. Touchy-feely Amy has suffered through a loveless marriage but still works with her jerk of an ex- (Steven Weber); she has trouble seeing within herself, then overcompensates when meeting Mr. Right, hoping to become his seeing eye puppy.
The story moves into phase two as the couple move to Amy's Manhattan apartment. As he acclimates to his new surroundings, she surfs the net and discovers an experimental eye procedure that might restore Virgil's sight. Amy persuades her initially resistant beau to meet the illustrious Dr. Charles Aaron (Bruce Davison) and eventually go under the knife, enabling him to see for the first time since childhood. As the bandage is unspooled off his head,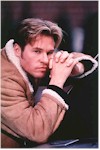 John Seale's camerawork does show what might be perceived from someone attempting to deal with a new world of light, dimension, and image overload. The romantic tone, however, turns turgidly technical and the film bogs down in heavy handed medical melodrama from here on out. The adjustment the frightened Virgil must make from the comfort of his inner darkness to horror found in a cacophony of color and shapes is covered in general terms (mirror images of himself, a broken glass door, et al), mingled with a few scenes with an under used Nathan Lane as a friendly sight therapist who tries to teach his patient how to decipher what he sees. With his new found sense come the encroachment of the media, including a documentary film crew at his unveiling. It's bad enough getting through the travails of his new condition, but the celebrity of the situation adds to his fears. The filmmakers toss in Ken Howard as Virgil and Jennie's father, long out of the family picture, who makes a useless appearance late in the film.
Producer-turned-director Irwin Winkler (The Net, Night and the City) and screenwriter Steven Levitt sketch the film relentlessly realistic, one of the problems in dealing with this true story in paint-by-number fashion with little subtly. To his credit, Kilmer shows a refined brilliance in displaying the foibles of the visually handicapped, particularly in a scene walking from his front door to a tree at the end of his driveway. Regrettably, one scene does not a movie make. At First Sight may grab at your senses, but it won't hold your attention.
---
Contents | Features | Reviews | Books | Archives | Store
Copyright © 1999 by Nitrate Productions, Inc. All Rights Reserved.