---
Summer of Sam
Review by Cynthia Fuchs
Posted 16 July 1999
Directed by Spike Lee

Starring John Leguizamo,
Adrien Brody, Mira Sorvino,
Jennifer Esposito, Michael Rispoli,
Saverio Guerra, Brian Tarantina,
Al Palagonia, Ken Garito, Bebe Neuwirth,
Patti LuPone, Mike Starr, Anthony LaPaglia,
Roger Guenveur Smith, and Ben Gazzara,

Written by Victor Colicchio and Michael Imperioli
It was a hot time in the city. The days sweltered and the nights vibrated with the latest craze, disco. In the Bronx in 1977, the Yankees were headed for a pennant, a Con Ed blackout inspired looting, assaulting, and arresting, and the .44 killer was shooting young dark-haired women and their dates as they necked in their parked cars.
As recalled by journalist Jimmy Breslin, who introduces Spike Lee's Summer of Sam, the city was overcome by "love and hate, both equally." Breslin should know. He received letters from the killer, also known as Son of Sam, letters confessing and threatening and maddening, daring the cops and the press to find him, to stop him. Breslin remembers that time, facing the camera as he speaks while a second, sensational image of him looms above and behind, a huge video billboard. The double Breslins are simultaneously eerie and hokey, anticipating the paradoxes and tensions that will tear at Lee's movie.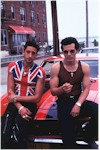 One such tension has to do with its subject. For all the hype about its supposed exploitation of the murders (voiced by victims' families and the born again David Berkowitz from his jail cell), the movie itself is really less about Berkowitz's specific acts or motivations than it is about the atmosphere reflected and generated by such a phenomenon. And it is one weird movie, fraught and fizzling, outrageous and seductive, compelling but not altogether convincing, surreal and populated by alternately potent and cardboardy characters. It plunges you into a small, insulated, tabloid fishbowl of a world, where characters are at once afraid of sex and driven by it, violent and fearful, earnest and loyal. The real focus is not Berkowitz, the tabloids, the victims, or the blood. The real focus is sex, scary, exciting, violent, and tender, and the ways it drives people to hurt each other and themselves.
You first meet Vinny (John Leguizamo), appropriately enough, in his great red convertible, sailing down the street with his beautiful wife Dionna (Mira Sorvino) beside him. They arrive at their destination, the Club Virgo, and glide through the doorway. Her stunning Barbie doll dress swirls well above her knees, in perfect synch with her husband's butt-tight, electric blue suit. Their entrance is grand and garners attention: friends and admirers pay homage as they pass. Once on the dance floor, their moves are precise, sexy, on fire. They see only each other, eyes fixed, bodies pulsing. And for a moment, the film disappears everyone around them. They're alone on the floor, looking dreamy and fantastic.
It's at this moment that the action slows and cools. Suddenly Lee's movie seems as if it's headed toward hyper-self-consciousness, too contrived, too eccentric. But it's only a moment. From here, Summer of Sam turns up the heat, turns increasingly intense, ingenious, and audacious. It's the most ambitious and, ironically, the most personal work that this gifted, controversial filmmaker has made since Do The Right Thing ten years ago. It's set in the Italian American neighborhood terrorized by Son of Sam, which is marked by a "Dead End" road sign where Vinny and his buddies hang out. No one ever said Lee was subtle.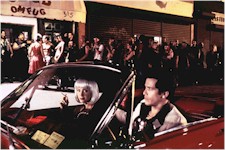 While the serial killing frames the action, the focal point is this neighborhood, as it is ravaged by a paranoia fanned by tabloid newspapers and sensational local newscasts. Dark-haired women are dyeing their hair blond, nightclubs are closing down for lack of business. And Spike Lee plays John Jeffries, the ABC correspondent with a baby fro and styling sideburns who goes to Harlem to get "the darker perspective" on events. This perspective is at once a joke and a fearful evaluation -- essentially, "Those white folks are crazy" -- but it also emphasizes the frightening smallness of the targeted area, the oppressiveness of the coverage, the existence of onlookers who watch from a distance.
Everyone, near and far, has theories. The stalker is from out of town or he's a neighbor, he hates women or he hates men, he lives alone or he lives with his mother. Someone suggests -- with accompanying sports footage to underline the point -- that he's Reggie Jackson, the superstar Yankee hitter whose number is, ominously, 44. This lunacy becomes near unbearable when Berkowitz (Michael Badalucco) thinks he hears his neighbor's dog talking to him and suddenly, there the dog is, big and black and digitized so that it's actually talking -- like some friend of Babe's -- in Son of Sam's apartment: "I want you to kill, kill kill!" It's at this point that the film seems to me most in touch with its own pulse, aware of its possibilities, and out of its mind. It's a giddy, horrific instant: the audience doesn't know whether to laugh, scream. or catcall.
Leading to and from this scene, where Berkowitz gives over completely to his own headf*cking, the movie -- written by Victor Colicchio, Michael Imperioli, and Lee -- returns again and again to the theme of scary, demanding, overwhelming sex. It does this by following two couples in the throes of relationship crisis. There's hot-to-trot hairstylist Vinny and his demure Dionna, whom he worships but can't satisfy sexually, while screwing any other woman he can (including trash-talking beauty parlor owner Bebe Neuwirth), doggy-style and everywhichway he feels would be disrespectful to the wife. He can't make sense of sex, his own "dirty" yearnings and his desperation to keep his wife out of them.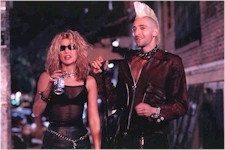 At another end of the sexual confusion spectrum, there's Vinny's childhood friend, now turned spiky-haired punk rocker, Ritchie (Adrien Brody). Recently he's started dating Ruby (Jennifer Esposito), erstwhile neighborhood tramp. They are both redeemed by their relationship, which at least at first, involves no sex, technically. Where Vinny struggles with his culturally instilled madonna-whore complex, Ritchie's just back from a stint living in the Village, looking for an identity that's distinct from his Italian gotta-be-macho upbringing. Eventually, he gets a gig at CBGB's ("How do you spell that?" wonders Vinny), but in order to make ends meet (and pay for his new guitar), he's dancing and turning tricks at Male World, a seedy gay club where he performs fellatio with a life-sized dummy on stage.
Homosexuality -- understanding or representing it -- has never been Lee's strong suit, and Ritchie's anxiety over his sexual activities and desires hardly resolve this longstanding "issue" for the filmmaker. Still, Ritchie is the film's most sympathetic, least awful protagonist. His emerging heterosexuality is marked by his increasing intimacy with Ruby and treated as a curious kind of triumph, a redemption that's never quite recognized by anyone. Given the violence and confusion about sexuality that swirl throughout the rest of the movie, Ritchie's capacity for intimacy and generosity, shown in part as he reveals his day job to Ruby, might be understood as a relatively good thing, if not quite a right thing.
The film refuses to reconcile its roiling collisions between sex and violence. This is the bravest choice made by the movie, to display the moral mess and awful dread that fall out from this collision, and not attempt to explain or define them.
---
Contents | Features | Reviews | Books | Archives | Store
Copyright © 1999 by Nitrate Productions, Inc. All Rights Reserved.