---
October Sky
Review by Elias Savada
Posted 19 February 1999
Directed by Joe Johnston.

Starring Jake Gyllenhaal, Chris Cooper,
William Lee Scott, Chris Owen, Chad Lindberg,
Natalie Canerday and Laura Dern.

Written by Lewis Colick,
based on the book Rocket Boys
by Homer H. Hickam, Jr.
I was seven years old when I joined my awestruck neighbors in searching the skies for Sputnik back in the cool autumn nights of 1957. As October Skies opens the Russian satellite glides through the evening expanse in the drab West Virginia mining town of Coalwood, eyes point upward and ears squeeze every ounce of information from pre-transistor radios about the foreign, silent invasion above. The event captures the imagination of one Homer Hickham, high school student, and this is his story. And while screenwriter Lewis Colick (Unlawful Entry, The Ghosts of Mississippi) unabashedly manipulates the characters while overlaying the angst of family life, the depression of a one-company town, the oppression that your secondary education merely graduates you to the mines below, and a few other trying, life-threatening morsels, he has still crafted one heck of a crowd pleaser, filled with humor, pathos, and intelligence. Director Joe Johnston, who cut his movie teeth working as a special effects designer on Star Wars, dropped his mousepad for the megaphone a decade ago with Honey I Shrunk the Kids. The Rocketeer and Jumanji followed before he put aside his fx-laden resume for this true life, character-driven, relatively simple story. The only magic is figuring out how he and the producers rearranged the letters from NASA science engineer Hickham's autobiographical account Rocket Boys into the perfectly apt October Sky. Yes, isn't that strange? And at a budget of a mere $20 million, I smell sleeper hit.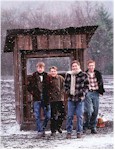 Black and blue are the omnipresent colors throughout this extraordinary picture. Blue sky, blue overalls, blue trucks. Black coal, black soot, black cars. Effectively capturing the ugly heart of this ore-dependent town are director of photography Fred Murphy and production designer Barry Robison, with Mark Isham's string orchestration adding a mournful dirge (assisted with a wide selection of Fifties pop tunes wisely underscoring the various themes of rebellion and hope). The four youngsters that break the mold and color your spirits are very well cast: Jake Gyllenhaal (Josh and S.A.M., City Slickers) has the role of a young lifetime as the boy who knows the only way out of town is by bettering himself and realizing his dreams (visualized in one short scene with a hot red sports car); William Lee Scott and Chad Lindberg are his pals Roy Lee and O'Dell, whose lives have been tragically altered the close-knit community's sole source of income, the labor-demeaning Olga Coal Company; and Chris Owen is Quentin, the school's red-headed, acne-burdened geek. Homer's initial approach to Quentin in the school cafeteria is a bold and funny step toward social ostracism amongst the school's populace, and a strange, reluctant friendship ensues as their unusual clique takes shape.
The Hickham home, adjacent to the mine as Homer's dad John is the management's pawn, is in perpetual upheaval. A direct phone line rings incessantly as too many calamities claim the generations of miners that have hammered away their lives at untold personal expense, with a massive layoff/shutdown looming over the bleak horizon. The father's pride that his oldest son Jim (Scott Miles) is headed for college on a football scholarship, turns to disdain with Homer's
sudden interest in rocketry, when he should instead be looking underground for his future. Mom Elsie (Natalie Canerday) caters to all as best she can with meatloaf and mashed potato dinners, but she prefers to sit in the kitchen painting a Myrtle Beach mural on the wall. Chris Cooper as the grim-laden patriarch has the strongest role in the film, even if Homer's character is the most likable, with his disarming smile. Cooper is an actor of immense range, best realized with his fine portrayal of a Texas lawman in Lone Star. Canerday plays well opposite his demanding presence, and she gets a few choice moments you'll remember well after the film has ended.
The film has four basic set structures: the Hickham house, the school, the mines, and the boys' "test facility." The first three form a cruel basin of existence for Homer and his space comrades. The high school principal (Chris Ellis) is but a rubber stamp for processing the company town's offspring to a life of subterranean drudgery. His constant putdowns of the rocket boys as they gain confidence and success are challenged by Miss Riley (Laura Dern), a bright blonde beacon who supports and challenges her students despite her frail interior. As for the mines, it's a dark, hellish, claustrophobic prison -- an earthbound tomb for Homer when he is forced to put on a hard hat after one of the pesky cave-ins sidelines his father for a spell.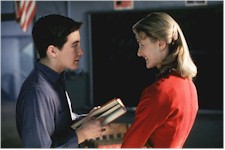 After the star-filled quartet's disastrous early launch attempts take out a portion of a picket fence and interrupt delicate labor negotiations at the mines, they are banished from company property and forced to trek eight miles to a coal slag that becomes their mini-Cape Canaveral -- the "Coalwood Missile Agency -- offering them an escape from their bleak existence a few hillsides away. Their series of misfires provide welcome uplift from the film's darker moments, and each small step forward gains added attention and support from the townsfolk, until now only showing their spirit rooting on the school football team. Erector sets, spare parts, and other paraphernalia evolve into steel-based rockets of startling conception as the mysteries of their obsession are solved with some help from company machinists (Randy Stripling and Elya Baskin), discarded railroad ties, and backwoods moonshine.
There's a bunch of other dilemmas that pop up during the coarse of the feature, including a case of puppy love, child abuse, and the local police shuttering the launch pad out of ignorance. The film packs a ton of despair, but answers back with a payload of hope. It's an affectionate tale that tugs at your heartstrings and makes your spirit soar. Catch a ride.
---
Contents | Features | Reviews | Books | Archives | Store
Copyright © 1999 by Nitrate Productions, Inc. All Rights Reserved.