---
Mystery Men
Review by David Luty
Posted 6 August 1999
Directed by Kinka Usher

Starring Hank Azaria,
Claire Forlani, Janeane Garofalo,
Eddie Izzard, Greg Kinnear,
William H. Macy, Kel Mitchell,
Lena Olin, Paul Reubens,
Geoffrey Rush, Ben Stiller,
Wes Studi, Tom Waits,
Ricky Jay, Artie Lange,
Jenifer Lewis, Joel McCrary,
Lucas Meyers, Pras, Stacey Travis,
Dawn Marie Warnock, and Jody Watley

Written by Bob Burden
and Neil Cuthbert
Champion City is a foggy, grimy setting of urban overdevelopment, the type where it always seems to be night, even when it's day, that begs for the heightened interplay of good and evil brought on not just by good guys and bad guys, but by archvillains and superheroes. But this particular dark metropolis has a bit of a problem. The balance of good and evil is off. All the criminal geniuses have been locked up, and the one honest-to-goodness superhero Captain Amazing (Greg Kinnear) is bored and, incidentally, short on big-money sponsors. Into the criminal justice vacuum step a few good, brave, and proud heroes of ineptitude. One hurls at his enemies every eating utensil except knives (Hank Azaria), one wields a shovel with not-so-destructive force (William H. Macy), and another just gets real, real mad (Ben Stiller). These three fledgling wannabes want nothing more than the chance to win from society the respected, beloved role of superhero, but they lack the self-awareness to recognize their limitations.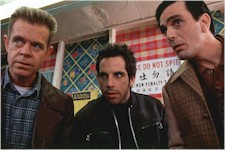 The superhero spoof Mystery Men is at its most pleasurable when it concentrates on the gentle mockery of these hapless amateurs and their deluded naivete. Unfortunately, it doesn't concentrate its energies there often enough - Mystery Men shows just as much loyalty, if not more, to the superhero half of its subject matter as it does the spoof. And that means loud, busy special effects and action sequences which serve mainly to overwhelm the more genially amusing nature of the story. This is one of those cases (which are becomingly increasingly less rare) where the budget is too big for the script to handle, rather than vice versa. What the budget did allow for was the hiring of a fantastically surprising cast. Along with Kinnear, Azaria, Macy, and Stiller, are Geoffrey Rush as Casanova Frankenstein, the arch villain Captain Amazing mistakenly sets loose in order to give him something to do (the action which sets in motion what this film has for a plot), Janeane Garafalo as a supehero recruit whose weapon is a very special bowling ball, and Kel Mitchell as Invisible Boy, who for the most part is invisible only in the figurative sense.
Other than wearing a psychotic stare, Rush is given precious little to do, but much of the un-superhero-like cast shines. Macy in particular puts a perfectly sober sheen on the best lines of the script. Listening to him assert his case that Captain Amazing and billionaire Lance Hunt are two different people, because Hunt wears glasses and Amazing does not (how could he see?), is far more entertaining than the rote action plot to which the film ultimately succumbs. Mystery Men is that kind of movie, in which the throwaway lines and sideline behavior are where it's at, not the action on center stage. In a story about characters destined to rest forever on the fringe, the fringe is exactly where the focus of the story should be.
---
Contents | Features | Reviews | Books | Archives | Store
Copyright © 1999 by Nitrate Productions, Inc. All Rights Reserved.