---
William Shakespeare's
A Midsummer Night's Dream
Review by Elias Savada
Posted 28 May 1999
Written and Directed by Michael Hoffman,
from the play by William Shakespeare.

Starring Christian Bale, Rupert Everett, Calista Flockhart,
Kevin Kline, Sophie Marceau, Michelle Pfeiffer,
David Straitharn, and Stanley Tucci.
Sure, it's only coincidence that the recent stock market downturn coincided with the release of this latest ode to The Bard, but Michael Hoffman's adaptation is a lackluster effort, a mild drop-off despite a splendid collection of well known performers. If you're looking for romantic fizz, A Midsummer Night's Dream comes out of the pack like a can of flat soda. It's not wretchedly bad, but for the lovelorn and mischievous among us, it lacks that certain snack, crackle, and Puck that wowed audiences with last year's shot-out-of-nowhere Shakespeare in Love, which is still pulling in viewers on over 900 screens nationwide, only 200 below the total prints circulating for the newer, lesser Dream. Lightning doesn't strike -- once or twice -- in this weak, watered-down ensemble piece. The talents of its stellar cast are lost under the weight of Hoffman's lethargic direction.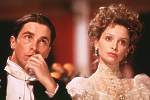 Updated from ancient Athens to late 19th century Tuscany, the Northern Italian hills are alive with dew-drop fairies and flower-packed potions, mountain bicycles (an odd addition), and a tendency to lull the audience into occasional yawns. Perhaps it's the overwhelmingly sumptuous production design by Oscar-winner Luciana Arrighi (Howard's End, Remains of the Day) or the sunny, luscious landscapes captured by director of photography Oliver Stapleton (previously teamed with director Hoffman on One Fine Day, the Academy Award winning Restoration, and Restless Natives), giving off a malaise much like that tired feeling you get after a long day at the beach. Despite Hoffman's lack of passion and wit in dealing with the iambic pentameter of the original, his film shines only during the last 15 minutes of a nearly two-hour time frame, from the moment the play within a play brings some life and well-needed humor to the stage. Otherwise, this production will be one of several early summer disappointments.
At least Hoffman provides equal time for nearly all the top-billed names, even if some of them seem to be sitting by the dusty roadside, hoping to hijack one of those renaissance bicycles and heigh-ho off screen, instead of harping to and fro in this tale of crisscrossed lovers, pawns to the whims of Oberon (Rupert My Best Friend's Wedding Everett) and Titania (the everlastingly stunning Michelle Pfeiffer), the fairy queen and her complacent, yet snubbed, counterpart. One level down, and unaware of the pixie kingdom prancing in the neighboring woods, are stiff, crusty Theseus (David Straitharn), a local duke, and the fair and open-minded Hippolyta (French actress Sophie Marceau), his bride-to-be. Straitharn, as most of the players, are constricted in one-dimensional shells handcuffed on them by director/writer Hoffman. It's unfortunate the characterizations aren't made bigger than life (excepting Kevin Kline) and hence more enjoyable. The beautiful Marceau, here walking around in a broadminded role, is best remembered for Braveheart and best forgotten in this year's Lost and Found.
The duke stubbornly presides over the local subjects and quickly earns the antipathy of the headstrong, jealous and/or broken hearted, a group including Demetrius (Christian Bale), Lysander (Dominic West), Hermia (Anna Friel), and her bumbling, Ally McBealish friend Helena (Calista Flockhart). Somehow I don't think Mr. Shakespeare meant for the ladies' highlight in his play to be a mud-filled cat fight rivaling TV's Dynasty bitch brawl between Krystle and Alexis back in the late 1980s.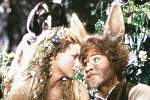 Tossed amongst the royal love salad is a group of amateur thespians, including the enchanting ham Nick Bottom, a buffoon in ass's clothing, enlivened with a gutsy, sparkling pathos by Kline, one of my favorite actors and soon to fill the screen opposite Will Smith and Shakespearian wunderkind Kenneth Branagh in the mega-production update of The Wild, Wild West. Stanley Tucci adds a comical, minor role as Oberon's roguish lieutenant Puck, whose misidentification of the principals is the core of the mismatched lovers' undoing. His appearance in this film reminded me how much more enjoyable was last year's The Impostors, Tucci's triple-threat (director-writer-star), too-quickly-forgotten ensemble farce which I'd recommend in a heartbeat as a better evening's viewing as a video rental or DVD purchase than this midsummer's nightmare.
Bottom and his band of inept performers put on a devastingly funny, mishap of a presentation of "The Most Lamentable Comedy, and Cruel Death of Pyramus and Thisbe," as the film draws to its close, at least leaving you with a pleasant enough aftertaste even if you've had sat through a gorgeous bowl of mush. Frankly though, it's too little too late.
---
Contents | Features | Reviews | Books | Archives | Store
Copyright © 1999 by Nitrate Productions, Inc. All Rights Reserved.