---
Lost & Found
Review by Gregory Avery
Posted 7 May 1999
Directed by Jeff Pollack.

Starring David Spade, Sophie Marceau,
Patrick Bruel, Artie Lange,
Mitchell Whitfield and Martin Sheen.

Written by James B. Cook, Marc Meeks
and David Spade.
Is David Spade haunted by the ghost of Chris Farley? In Lost and Found, there is a character whose only existence in the film seems to be so that he can burst into the proceedings at regular intervals and look big, blond, and pumpkin-faced while Spade fires off quips about him. Spade is a perfectly fine comedian in his own right, so he doesn't have to resurrect a late comedic partner in order to prove it.
In fact, the wonderful hawk-faced comedian might make a perfectly fine solo performer -- but not in this film. Here, he plays a restaurateur who falls in love with a neighbor, a cellist (pouty-faced Sophie Marceau),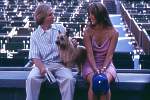 newly arrived from France, and offers to help her find the beloved pet dog that she has lost -- all the while keeping the diminutive creature locked away, hidden, at his own place. There is an ostensible reason for this, and it might even have been made palatable. But there's no reason for the filmmakers to ask us to laugh at a person who inadvertently has dog manure smeared on his face, or jokes about child molestation (several, in fact), or the sight of an elderly woman being thrown, hard, onto a dinner table. For a comedy, and a romantic one at that, Lost and Found is unusually mean-spirited. I fear that the success of There's Something About Mary may have ushered in a whole age of mean-spirited comedies, ones that treat everyone and everything on the same insensitive level, and ask us to laugh at stuff precisely because it is not funny at all.
---
Contents | Features | Reviews | Books | Archives | Store
Copyright © 1999 by Nitrate Productions, Inc. All Rights Reserved.