---
Lake Placid
Review by Elias Savada
Posted 16 July 1999
Directed by Steve Miner.

Starring Bill Pullman, Bridget Fonda,
Oliver Platt, Brendan Gleeson,
Betty White, and Meredith Salenger.

Written by David E. Kelley.
Without the sarcastic wit of television mega-talent of David E. ("Emmy") Kelley, this lowbrow horror entry might have been titled Lake Flaccid. But it'll provide minimal relief from the summer tepidity (weather that is) and has little chance opening opposite the marketing thrust of Kubrick's psychosexual Eyes Wide Shut and the limited break, Internet-hyped The Blair Witch Project, a delicious low-budget, gore-deficient scare item that should corner the younger crowd. That is those kids who have already had their fill of self-enlightening baked goods and hand-me-downs from Comedy Central.
So, while Stephen King is recuperating from his car accident in Lewiston, Maine, Kelley is spouting campfire tales in the pristine New England wilderness and plush piney backwoods skirting Black Lake. Yeah, believe it, the film's water trap isn't even the same as the film's title! It's explained briefly, in throw-away dialogue that "We could have called this Lake Placid, but that name was taken."! Camping out for the quick 82-minute ride is a cast that has some of the corrosively funny dialogue this side of Ally McBeal (one of Kelley's three current TV franchises, along with The Practice and Chicago Hope). Ah, now I see. It's that kind of camp fire. We have a half-horror, half-comedy show where the humans, despite advanced college degrees, appear to be dumber than Adam Sandler when it comes to tackling a 30-foot crocodile, an oversized pet with a penchant for dramatically dining out on local livestock and law enforcers.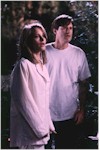 The quirky characters are a typical, albeit well-spoken, bunch whose spoken and physical barbs are constantly pitched against each other, trying to pull a wet blanket over the film's silly premise. Kelly Scott (Bridget Fonda) is the Big Apple paleontologist rebuffed in love by her big-city museum boss (Kelley regular Adam Arkin in a brief appearance) then promptly air-plopped in the great outdoors in the company of Twinkie-toting local sheriff Hank Keough (the great Irish actor Brendan Gleeson, irascibly Americanizing a similar role he played in This Is My Father) and potential puppy love partner, fish and game warden Jack Wells (Bill Pullman), easily the weakest link in the film's starring quartet. Kelly is the pissed-off fish-out-of-water character, obviously at a loss for some good cappuccino from the corner Starbucks and harboring an allergy to timber. Mixed into this bad hatchet job of Jaws arrives the off-kilter faux Matt Hooper character herein called Hector Cyr, a sonar-equipped, rich, eccentric mythology professor played with over-acted buffoonery by Oliver Platt, whether treading dangerous water or picking fights with authority figures.
I'll single Betty White (God bless you Sue Ann Nivens and Rose Nylund), for daring to come up with another completely off-the-wall, flaky character (as she did in Hard Rain) as a lonely widow who lives lakeside with some unusual friends. She has two of the best verbal expletive-filled zingers in the film. There's also "I'm rooting for the crocodile" line heavily featured in the TV trailer. She's nearly worth the price of admission for the five minutes or so she's on screen.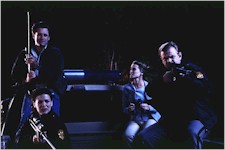 Technically pieced together by director Steve Miner (Halloween H20, Forever Young), with an imposing, ominous score by John Ottman and eye-pleasing cinematography by Daryn Okada, the film still lacks the electricity of a believable story. Miner, who has directed episodes of producer-writer Kelley's television episodic stable and launched the Friday the 13th franchise, seems to believe Lake Placid 2 could be dredged up if the first offering does decent box office. The film's ending certainly leaves the floodgates open in a small way, unfortunately. Stan Winston's effects are jaw-dropping and grisly, but the gruesome outbursts are just about all highlighted in the various trailers promoting the film and there ain't much left to the imagination if you've caught the previews (except for Betty White's bon mots). Yes, Lake Placid is a disconnected beast, good for a half-price matinee or a video rental later this year, where you can watch it on the appropriate medium for this muddled message.
---
Contents | Features | Reviews | Books | Archives | Store
Copyright © 1999 by Nitrate Productions, Inc. All Rights Reserved.