---
In Dreams
Review by Elias Savada
Posted 15 January 1999
Directed by Neil Jordan.

Starring Annette Bening, Robert Downey, Jr.,
Stephen Rea, Aidan Quinn, Paul Guilfoyle,
Dennis Boutsikaris and Katie Sagona.

Screenplay by Bruce Robinson and Neil Jordan,
based on the novel "Doll's Eyes" by Bari Wood.
As horror films go, this one left me screaming.
Why do they make films like this?!?
Do the producers think people will spend money on this drivel?
Be afraid! Be VERY afraid! Of having to sit through 99 minutes of such stuff that bad movies are made of.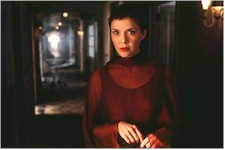 As dream films go, this one's an hellacious nightmare and annoying migraine, coincidentally released by Dreamworks, and guaranteed to be the worst performer in the history of this young company. Yes, it's visually stunning (credit that to the dark, moody work by cinematographer Daris Khondji, responsible for Seven and Alien Resurrection), but it's a psychic hotline to hell without telephones, mangled by a disconnected script by director Neil Jordan and Bruce Robinson. And, remember, this phone call is your dime (well, technically 35 cents, but that doesn't sound nearly as good). This week's motto: Be thrifty.
Not that I have enjoyed many of Stephen King's horror adaptations, but this painful rip-off of the horror meister's oeuvre is all wrong, driven home by that popular author's New England settings and a get-even ending straight out of Carrie. The unnatural story of two minds melding, each sharing the other's thoughts and future musings, is directed with a leaden hand by Jordan, who runs hot (The Crying Game, Interview With the Vampire) and cold (High Spirits, We're No Angels). I'm hoping he is a baseball fan and remembers the 1969 Mets; there's nowhere to go but up after this mess. Star Annette Bening would have been better off having a mind link with her business agent, sensing horrifying thoughts of how this film would eventually turned out.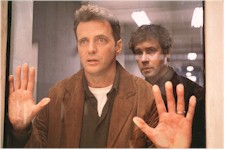 For the record, mysterious visions, flash backs, flash forwards, flash whatevers, of apples and death haunt poor Claire Cooper (Annette Bening, probably wishing she was back home with Warren), a children's book author/illustrator -- including an adaptation of Grimm's Fairy Tales -- living with her beautiful child and wonderful husband and obedient dog in a lovely white house on the edge of a man-made lake, covering a town flooded 30 years earlier in the name of progress. Beneath the surface is a entrancing, haunted world of water-logged relics (a wonder they weren't removed for salvage), a graveyard (I wouldn't want to be a genealogist visiting a distant relative in this subterranean tomb), and the memories of a near-death experience of a child chained to a bed as the rushing waters overcome him. Claire eventually takes a close up look at the lower depths when she takes a swan dives in her red Volvo into the murky depths after her daughter is lost.
Upset at the increased severity of her thoughts, significant other Paul, an airline pilot (Aidan Quinn, in a stopover role), initially skeptical, then apprehensive, flies off to the authorities, to Detective Jack Kay (Paul Guilfoyle) who is also initially skeptical, then apprehensive, about the woman's continuing state of mental collapse. Dr. Stevens (Dennis Boutsikaris), a neurosurgeon examines the frantic woman and is initially skeptical, then apprehensive, about the woman's continuing state of mental collapse. Jordan regular Stephen Rea follows, making a brief appearance as a psychologist, initially skeptical, then apprehensive, about the woman's continuing state of mental collapse. And so on. Thankfully Rea, so marvelous in The Crying Game, makes a refreshing comeback as a dusted off rock star of yesteryear in the wide release next week of Still Crazy.
In Dreams is an enigma, with heaps of puzzling loose ends. You'll catch yourself saying "Say, what?" a few times, if you can hear yourself over the raucous score by Elliott Goldenthal, previously nominated for an Oscar for his work with Jordan on Michael Collins and Interview With the Vampire. On a scale of one to eight, this is a "fa," as in fa-get it.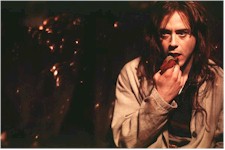 As a wrong-headed, dream-laden metaphor for Snow White and the Seven Dwarfs (with Downey as Grumpy), we follow Claire as she eventually retraces the tormented path of long-haired, grizzled Vivian Thompson (Robert Downey, Jr.), her significant mental other in a mental ward escape using a cross-cutting, time-leaping technique -- also employed in a recent "Bermuda Triangle" episode of The X Files -- to a predictable climax. Theatres showing In Dreams will quickly shove this film out of the commercial marketplace. Telegraphing those exhibitors' thoughts as to where this film belongs are the three characters caught together toward the film's end: Vivian, Claire, and Ruby, a child abducted by the serial killer. Take their first initials and fast forward where this weird, cheap thriller will end up later this spring.
---
Contents | Features | Reviews | Books | Archives | Store
Copyright © 1999 by Nitrate Productions, Inc. All Rights Reserved.