Contents | Features | Reviews | News | Archives | Store
---
New Mexico's Taos Talking Pictures Festival (15-18 April), in its five short years of existence, has developed a reputation as one of the premiere meeting place for American independent film makers. While they feature foreign work, a lecture series (which this year included radical historian Howard Zinn, family therapist/film critic Frank Pittman and media critic Susan Douglas, this year's "Scholar in Residence") and a Teen Media Forum, its strongest, largest component is the focus on American indie film and video. This was my first year at Taos -- I came to accompany a program of video from Northern Canada I had curated -- and what I found there was a well run operation (house managers Lyndon Bray and Melanie Blanders ran a tight ship at the festival's main venue, a six screen multiplex) with an overall lineup that's as diverse as any in North America. Diversity has its costs, of course, and there were certainly plenty of mediocre films on display this year. While the worthwhile and innovative films made up for the clunkers, the sheer mass of not-very-interesting films that one encounters at film festivals these days (Taos is not unique in this regard) is enough to give one pause. More people making more independent films seems desirable; and yet, there are more than enough films out there to make a reasonably discerning film viewer to put that in the "careful what you wish for" file. Some short notes on what I saw, what I liked, and what I didn't:
---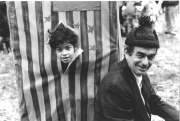 La Cuidad (David Riker, USA): This first feature by David Riker was among the very best of the festival; everyone at the festival seemed very happy when the film won the Taos Land Grant Award (five acres of land in the Taos area). Weaving together four stories of New York Latinos, Riker has a very relaxed, very keen sense of pacing and narrative progression. Visually the film is very powerful, photographed in stark black and white by Harlan Bosmajian and investing the very poorest pockets of New York with an odd combination of luminance and dread. Riker is obviously an artist with a sophisticated grasp of the medium's possibilities, never sacrificing story for visual flourishes and yet never allowing the film to veer into the realm of simple melodrama.
---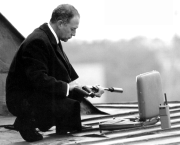 The Last Contract (Kjell Sundvall, Sweden): I really didn't expect much from this Swedish conspiracy thriller, which revolves around the assassination of Prime Minster Olaf Palme in 1986. Kjell Sundvall's film was a very pleasant surprise, featuring intense performances by Mikael Persbrandt and Pernilla August, a complex but astonishingly efficient narrative, and tight, carefully composed photography. Visionary cinema it's not, but it recalls some of the best American conspiracy thriller of the 1970s, and is a could well serve as a model of how to revitalize generic forms once feared long dead. One can only hope that Oliver Stone gets to see this film.
---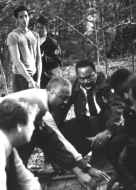 Oxygen (Richard Shepard, USA): There's no doubt in my mind that one day, Richard Shepard will go on to be a very competent television director, probably specializing in cop shows. If that sounds like I'm damning the film with faint praise, well... Written and directed by Shepard, Oxygen is a taut tale of a psycho (played by The Thin Red Line's Adrian Brody) who's kidnapped a wealthy woman, buried her alive, and demanded a million bucks for her location. The proverbial clock is ticking as her oxygen slowly runs out, and Maura Tierney (Primary Colors) plays the DOCWMCTC (The Damaged, Obsessed Cop Who Must Crack The Case) in question. Oxygen is solidly produced with good performances, but it's so utterly formulaic that it's difficult to imagine why anyone would feel passionately about it. In places it seems arty enough to belong among the ranks of "independent" films, but really it's just unambitious and predictable enough to fit on TV, possibly as a Movie of the Week.
---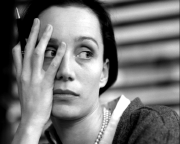 Souvenir (Michael Shamberg, USA): I came into Souvenir really prepared to like it. It's got a voice over by Christiana Ricci and Kristin Scott Thomas plays a small role; these two women are, to my mind, both among the very best actresses of their respective generations. It was photographed by James Herbert, an experimental film maker whose meticulous, otherworldly shorts I have come to love (and who's also made some great videos for REM). Alas, Souvenir is utterly unwatchable. It follows a the trials and tribulations of a young woman living in Paris, who seems to be scarred by memories of a childhood sexual experience. The voice over that poor Ricci is asked to read is more pretentious than I could have possibly imagined (and, to again invoke Star Wars, I can imagine quite a bit), the performances are totally wooden (even Thomas fares badly) and the pacing is very plodding indeed. Checking in at a mere 78 minutes, Souvenir feels like it lasts an eternity.
---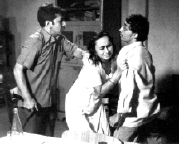 Such A Long Journey (Sturla Gunnarsson, Canada): Adapted from Canadian Rohinton Mistry's novel, this film by Sturla Gunnarson chronicles a difficult time in Indian history, the early 70s, with restraint and a great deal of humor. Gunnarsson gives an intimate, clearly visualized portrayal of a tightly knit community of Parsis living in Bombay, trying to hold everything together at the exact moment when everything -- nationally and, for the protagonist Gustad, familially -- was flying apart. In a way, Gunnarsson is the anti-Merchant/Ivory; rather than indulging a pretentious sense of importance and seriousness as their films so often do, Such A Long Journey was a small, almost humble film, with occasional and perfectly timed epic flourishes.
---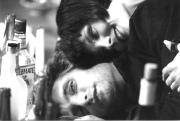 Traps (Vera Chytilova, Czech Republic): Czech film maker Vera Chytilova isn't as well known on this side of the Atlantic as she deserves to be. Her 1967 films Daisies is an insane, surreal little masterpiece, a real classic of the era; her newest work, Traps, follows in the path laid out by that film. This is a harsh, biting comedy about the aftermath of the fall of communism, and has a genuinely fleshy, bawdy feel to it. It's pretty tough to watch in places, and Chytilova seems to revel in making her audience squirm. It all comes to a point, though; Chytilova is showing us just how unbearable life has become in a country where the structures of oppression have vanished without any kind of reasonable society to replace it. This is a rollicking comedy, but it has a palatable melancholy about it. All is not well in Eastern Europe, but it's a relief to see that the woman who chronicled an earlier generation of that region's disorder still, magically, gives the impression of being at the peak of her form.
---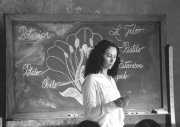 Under A Spell (Carlos Carrera, Mexico): For me, this film takes the "most pleasant surprise" award of the festival (maybe it's a tie with The Last Contract). Directed by Carlos Carrera, this lovely, loving film chronicles twenty five years of that Mexico's history, beginning at the early part of the century and moving, very slowly and with great attention to detail, through the social and political turmoil whose scars are still visible in that country. This is not simply a national epic, though; the film follows the life of Eliseo and his schoolteacher Felipa, showing how both of them are quiet, passionate and lonely people, forever on the cusp of true happiness. A real paradox is at work in Carerra's style; like Gunnarsson in Such A Long Journey, he can't seem to decide if he wants to be epic or intimate. The clarity with which he develops both of these competing elements of the film is a formidable achievement, though, and makes Under A Spell one of the most subtle, original films to come out of Mexico in recent memory. It's a swooning, romantic work, drawing on the best traditions of Mexican melodrama but also enhancing that form with a political sense and a starry-eyed visual sensibility.
---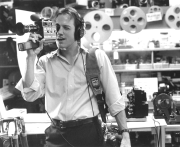 Where's Marlowe? (Daniel Pine, USA): Daniel Pine's mock documentary offers an odd, unintentional insight early on. It follows the exploits of two film students who want to make a documentary about a private investigator (guess what: they end up getting involved in their cases and generally come in for more than they bargained for), but in the opening moments of the film, we see them screening their first film, a 3 1/2 hour doc. about water in New York. The joke is supposed to be that this was artistically and socially ambitious but horribly dull and overblown in a typically student-film kind of way, but now they're moving on to better material. The equivalent of that water film is exactly what Where's Marlowe ends up being overall, though; aside from the occasional funny bit, this is a dull, ill-conceived film with wooden performances and no clear sense of direction. At 100 minutes, it's entirely too long. Who funds stuff like this?
---

Corpus (Lourdes Portillo, USA): This year's tributee was San Francisco based indie Lourdes Portillo, and she came here with her newest documentary, a freewheeling meditation on the legacy of Tejano music star Selena. This was a very thoughtful work, placing archival footage alongside interviews with fans, intellectuals, DJs, residents of Corpus Christi (Selena's hometown) and, most revealingly, Selena's dad Abraham Quintanilla. In a mere 47 minutes the film covers an exceptional amount of ground, and certainly you could argue that Portillo is a little bit all over the place. And yet, what she makes clear about Selena is that she was a multi-faceted phenomenon to say the least, difficult to understand in a clear way. Portillo opts, then, for fragments, and this organizing principle serves her subject matter well. Often critical, sometimes downright esoteric and occasionally hilarious, CORPUS is never dull, and seems to be encouraging its viewers to come along as this very curious and committed film maker plumbs the depths of this very curious young superstar.
---
On The Ropes (Nanette Burnstein and Brett Morgan, USA): This documentary has gotten an enormous amount of popular acclaim, and it's not tough to see why. It follows the ups and downs of a few kids (Tyrene, Noel and George) who train at a Brooklyn boxing club, and makes their lives into incredibly compelling narratives.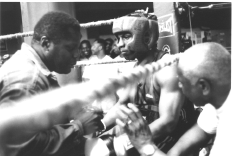 Indeed, you're left at the end of the film feeling just a touch uneasy -- what's unfolded has moved along not in the sluggish, unpredictable manner most documentaries do, but with the efficiency and emotional involvement of well crafted story. If the film does feel a bit manipulative and controlled, it's also a passionate, absorbing piece of work, one that has a great deal to say about what it's like to be a part of New York's underclass. Burnstein and Morgan portray the managers who control these kids' futures with acidic clarity, although they are also clear about how flawed their three protagonists are as well. Complete with a beginning/middle/end, clearly drawn characters and compelling situations, On The Ropes could be fiction. I don't mean that in a A "gee wouldn't that make a great novel" kind of way; the inescapable impression that we're left with, given the amount of arranging and (probably benign) manipulation that seems to have gone on here, is that On The Ropes could for all practical purposes already be a work of invention. It still has important things to say, though, and is a fine example of the new, quasi-fictional aesthetic that has recently taken hold in American documentary (it's not new at all, of course, it harkens back to the days of Robert Flaherty, but that's another article, isn't it?).
---
The Double Life Of Ernesto Gomez Gomez (Gary Weimberg and Catherine Ryan, USA): This 54 minute video enunciated a very different idea of documentary than On The Ropes, although it had just as explicit a point of view. It follows the life of Ernesto, whose mother is serving several consecutive life sentences for activities related to the cause of Puerto Rican independence. In addition to Ernesto, we meet the Mexican family he was sent to live with when his mom was arrested (he didn't know about her or her radical past until he was older), and the California family he chose to live in order to be closer to her. The video is quite a stylistic hodge-podge: there are talking head interviews, hand-held footage, archival material, and diary sequences shot by Ernesto. Filmed over the course of three years, we watch this kid grow up and try to make sense of his complicated, crazy life. We come to realize, along with him, that for better or for worse he has not just one but several identities, and will never be able to settle the uncertain nature of his life. Watching him turn that into a blessing makes this modest video feel like wonderful gift indeed.
---
---
Contents | Features | Reviews | News | Archives | Store
Copyright © 1999 by Nitrate Productions, Inc. All Rights Reserved.