Contents | Features | Reviews | News | Archives | Store
---
Hitchcock at 100:
The Beginnings
Near the beginning of Vertigo (1958), the detective Scottie Ferguson (James Stewart) asks his friend, and onetime fiancée, Midge (Barbara Bel Geddes) to direct him to someone with a knowledge of San Francisco history, someone who knows all about "the small stuff." Midge takes him to see "Pop" Leibel (Konstantin Shayne), proprietor of the Argosy Book Shop, downtown, who tells them about Carlotta Valdes, the tragic figure whom Madeleine Elster (Kim Novak) has become so preoccupied with. Carlotta went to live with a rich, powerful man who built a mansion for her to live in. They had a child, and then the man left her, taking the child with him. Carlotta became bereft, mad, and, finally, died. "Pop" shrugs his shoulders. "There are many such stories," he says in conclusion. Meanwhile, the time has changed from afternoon to almost evening; the light inside the shop has turned, while the three people talked, from bright to almost dark.
Alfred Hitchcock died on April 29, 1980, at the age of eighty. A little over four months earlier, he had been knighted, making him Sir Alfred. His last theatrical film was released in 1976.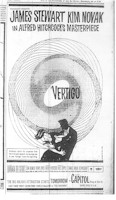 Yet Hitchcock seems never to have left us. A little over three years after his death, the first of five films that had been taken out of circulation -- Rear Window, Vertigo, Rope, the 1956 Man Who Knew Too Much, and The Trouble With Harry -- was theatrically re-released, to surprise success. In the fall of 1984, producer Christopher Crowe revived the "Alfred Hitchcock Presents" TV series, using Hitchcock's original introductory and closing remarks to open and close newly-made episodes. The original black-and-white episodes were a longtime staple on the Nick at Nite cable channel (although they were Lexiconed, a process which creates more time per half-hour for commercial breaks). David Freeman published a book on his collaboration with Hitchcock on "The Short Night," the screenplay for which was completed but never filmed. Donald Spoto followed his authoritative 1978 "The Art of Alfred Hitchcock" with an extensive biography on the director which shed new, sometimes disturbing and controversial, light upon his life and career. Two new books were published on the making of Psycho, one co-authored by Janet Leigh, and one was published on the making of Vertigo, to coincide with the release of a glorious new restoration of the film by Robert L. Harris and James Katz. Harris and Katz are currently finishing a similar restoration of Rear Window, one of the films for which Hitchcock received an Academy Award nomination for Best Director.
1998 alone saw three remakes of Hitchcock films: A Perfect Murder, a handsome and moderately well-made updating of Dial M for Murder; an ill-conceived reworking of Rear Window as an acting return for Christopher Reeve; and Gus Van Sant's "recreation" of Psycho, a conceptual art piece which, by duplicating the film's shooting schedule and shot-by-shot construction, deconstructed the film and commented on both the original film and the very nature of filmmaking itself. (Well, that's one way to look at it.)
August 13 of this year will mark the 100th anniversary of Hitchcock's birth, and, slowly but surely, great forces are being harnessed to observe the event. Starting in April, the Museum of Modern Art, in New York City, will begin their Hitchcock Centennial retrospective, which includes screenings of all his films, and exhibits that include a "Hitchcock Interactive" program where, from special kiosks, visitors can access information on virtually anyone or anything regarding Hitchcock's work. In the meantime, the British Film Institute is girding up their retrospective, entitled "Ultimate Hitchcock," to begin in August. Leytonstone, the East End London suburb where Hitchcock was born, is planning their own special observance. Universal will be theatrically re-releasing a whole passel of Hitchcock films, including Psycho, Frenzy, and, for some reason, Topaz (which, 30 years later, is still bad). Two new documentaries will be premiered. A volume of "Hitchcock's Notebooks" has been published, along with a novel, by Robert Schoen, about Alfred and Alma Hitchcock. The Hitchcocks' daughter, Patricia Hitchcock O'Connell, is writing a book about her mother, Alma, who was an editor and script consultant in her own right before marrying, and worked with her husband on many of his films. Patrick McGilligan, author of previous, estimable works on George Cukor and Fritz Lang, is writing a new biography of Hitchcock, which will be published next year.
The British artist Douglas Gordon, recipient of the 1996 Turner Prize, has previously created an installation called "24 Hour Psycho," whereby, by slowing down the projection of the original film frame-by-frame, the entire film was projected, from start to finish, over a twenty-four hour period. This April, Gordon is presenting a new installation based on Vertigo, entitled "Feature Film," at London's Atlantis Gallery. The visitor walks into a dark, cavernous hall and sees a huge two-sided screen on which footage of James Conlon, conductor for the Paris Opera orchestra, is seen, in extreme close-up, leading the 100-piece orchestra through a new arrangement of the Bernard Herrmann score. James Stewart and Kim Novak can be heard, sometimes, very faintly, but are never seen on the huge screen. Closer examination reveals that the visitor is actually standing on a platform while watching the Conlon footage. A staircase to one side, in the dark, takes one down to the actual floor of the hall, where, in one corner, a print of the original Vertigo is being projected against a wall from equipment sitting on the floor. From this vantage point, one can see, at the same time, the tiny images of Stewart and Novak and the large images of Conlon conducting the rapturous score that accompanies them. (The installation will be up only until May 3.) In an interview, Gordon has said that he never felt obsessed with Hitchcock (his next work will be based on Scorsese's Taxi Driver), but he did admit he once sent a letter to Lars Thorwald, the murderous character in Rear Window, just to see what would happen.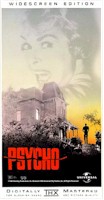 So what is it about Hitchcock that continues to keep our attention while the work of other, equally worthy filmmakers has come almost to languish in the dark? Hitchcock's work remains one of the most strongly individualistic -- many have tried to imitate him, but none have succeeded. He defined a form of making films he called "pure cinema," whereby characters, dialogue and detail are built first by visual means, then by combining them with dialogue. He developed a sharp sense for creating visuals and montage; Hitchcock said that he knew which type of camera lens to use to make a glass of water look sinister, something that is actually borne-out in some of his films. He developed an idea and method on how to tell a story to the audience -- how much information they should get, what kind, and when they should get it -- while also determining how to evoke and orchestrate their emotional responses. Hitchcock commented that he assembled films in the same way that "notes of music make a melody," and that he could "play the audience like an organ," and brooked no shame about doing so. ("You know, people pay to be scared.") But he wasn't cynical about it, either, turning the art of thrilling or scaring an audience into a game that made it more convivial than a mere exercise in manipulation. One wanted to see what Hitchcock would come up with next, because one enjoyed it, and Hitchcock, in turn, genuinely enjoyed the challenge.
Hitchcock was able to keep an audience entertained while expressing both their fears -- and his own. It was no accident that Hitchcock came to work in the suspense genre. What was unusual was that the personal fears that Hitchcock explored through his work turned out to be universal, and his explorations of them continue to hold sway over our thoughts and imaginations to this day.
A man who had a constant weight problem yet indulged in his tastes for fine foods and superb wines, Hitchcock defined his personal image and lent it, successfully, towards the promotion of not only his films, but also a television program, various book anthologies, a monthly mystery magazine, and a record album, "Music to be Murdered By." ("Our record requires only the simplest of equipment: an ordinary phonograph needle, a three-inch speaker, and a .38 caliber revolver....") He delighted people with a repartee of anecdotes and analogies which he carefully refined over the years, while pulling pranks that included handcuffing the two lead actors in The 39 Steps together on the first day of filming and then pretending to lose the key, constantly surprising Janet Leigh during the filming of Psycho by placing the dummy Mrs. Bates in different places every day, and accompanying friends or associates into crowded elevators and, on the way down, proceeding to tell the most horrific stories: "Who would have thought he'd have so much blood in him?" Hitchcock would say, while gauging the reactions of the complete strangers standing next to him.
He made sport of how murder should be kept off the streets and at home where it belonged. He talked with a reporter from "Cosmopolitan" magazine while filming Dial M for Murder about how he had to get the right lighting for a scene involving a pair of scissors, because the gleam on the scissors was like the hollandaise sauce on asparagus. When he was honored by the Film Society at Lincoln Center in the early Seventies, after a lengthy showing of clips from his films which included the sequence from Dial M..., Hitchcock rose and simply told the audience in attendance, "As you can see, the best way to do it is with scissors." But his films were also more than mere divertissements: they were also autobiographical, sometimes achingly so. Hitchcock was an artist, working in a twentieth century medium, and he was a very twentieth century artist. And while the debate still continues over whether he was a true artist, there is, as another idiosyncratic, and brilliant, film director, David Cronenberg, put it, "this taste of something that without him would not have existed."
Alfred Joseph Hitchcock was born in 1899 to William, a grocer, and Emma Hitchcock. The family lived above and behind the business on the High Road, Leytonstone, over the crates of produce; a small, grey inner courtyard was the site for the household's small, grey outhouse. Forever after, Alfred would make references, humorous or grave, lightly or direct, to food, its consumption, and its eventual disposal.
One of the most oft-told stories in the Hitchcock mythos concerns how his father instructed the boy to go to the local police station, where he was locked in a cell for some time, to learn "what happened to naughty boys." This story has never been corroborated (Hitchcock also told of "the daily confession," where he stood at the foot of his parents' bed every night and gave a detailed account of his day's activities), but there are other things that definitely contributed to his developing character. One was the fact that he hardly ever saw his older brother, William Jr., or sister, Nellie, who had been packed off to boarding school. Young Alfred was educated by Jesuits, who doled out corporeal punishment by means of sticks made of gutta-percha, the same substance used for riding crops and horse whips. The offending boy was told how many strokes he would receive for his infraction, but it was then up to the boy to decide when, during the day, he would take them. "A boy would naturally put it off and that only increased the agony...," Hitchcock recounted, years later, to David Freeman. "The sting was absolute. I can feel it now."
When his father died, Alfred left school to work and take of his mother. He initially started out to be an engineering draughtsman, worked for a telegraph company, and wound up presenting sample title cards he had designed and drawn himself at the new Islington offices of Famous Players-Lasky, the U.S. film company that would eventually become Paramount Pictures. After several attempts, Hitchcock got a job there, eventually working as an art director and screenwriter. Michael Balcon took over the Islington studios and created Gainsborough Pictures, which would become one of the major UK film studios.
Hitchcock had by this time discovered the fiction of Edgar Allen Poe, particularly "The Murders in the Rue Morgue," with its detective C. Auguste Dupin, and "The Gold Bug." He also read C.K. Chesterton's stories featuring the detective Father Brown. He had taken up still photography, and also started seeing motion pictures, comparing the merits between American and European-made films. He began trying to figure out how films were made.

As a production assistant, he was sent to visit the huge Ufa studio facilities in Germany, and met F.W. Murnau, even watching Murnau directing The Last Laugh, a silent picture that dispensed with the use of title cards and told its story entirely through visuals only. In Germany, Hitchcock got a chance to direct his first two pictures: The Pleasure Garden (1925), which opens with a bevy of chorus girls descending a spiral staircase (the Hitchcocks were theatergoers) and melodramatically ends up in the steamy Tropics; and The Mountain Eagle (1926), a picture set, according to Hitchcock, "in old Kentucky, wherever that is," and which now only exists as a series of photo stills. Returning to Britain, flush with his meeting with Murnau and his exposure to German Expressionism, he made The Lodger, subtitled A Story of the London Fog.
On the embankment of the Thames, the body of a blond-haired girl is found, and soon all of London is gripped by the news, spread by newspaper, telegraph and radio, of the "seventh successive Tuesday murder" by the Avenger, who kills only blond-haired girls and always leaves a scrap of paper on their persons, with his moniker printed within a hand-drawn triangle.
Daisy, a clothing model, lives with her parents and is being courted by a young police detective, Joe, who has just been assigned to the Avenger case. As soon as he "puts a rope around the Avenger's neck," he promises, he will "put a ring around Daisy's finger." He also playfully smacks on a new pair of handcuffs -- "new bracelets for the Avenger" -- on Daisy's wrists. (Some prints of the film also include a title card where Joe says, "Wedding bonds.")
A knock on the door brings a man inquiring about a room to let in the house kept by Daisy's parents. The man is wrapped, bound and clad from head to foot, save for the eyes (Ivor Novello, the British matinee idol, as tall, thin and gaunt as an Aubrey Beardsley figure). He takes the room, but asks that the pictures -- all of fair-haired women -- be removed. He seems alternately melancholy, then agitated, is private, and paces the floor of his room above the heads of Daisy and her parents. (Hitchcock constructed a glass ceiling so that we can see the lodger's pacing overhead.) He goes out at night -- "creeping as if he didn't want to be heard," says Daisy's mother. But what really cinches it is when Daisy's friendship with the lodger turns flirtatious, and the lodger responds. Joe immediately suspects that he is the murderer all of London is looking for, and, handcuffing him, tries to take him in. The lodger escapes, only to be spotted and chased by a mob of people on the nighttime streets. Trying to escape over a fence, the handcuffs become caught on the railing, and he becomes suspended between two crowds of people, kicking and pummeling him from above and below.
The picture, adapted from Marie Belloc-Lowndes' novel about Jack the Ripper, contains many of the themes that would be explored in later Hitchcock films: a misunderstood protagonist, a distrust of the police, the pervasiveness of wrongdoing which causes anguish and suspicion of everyone by everybody else, ordinary objects and actions which take on new, unexpected and ulterior meanings, and fear of incarceration and (as Eric Rohmer and Claude Chabrol would succinctly put it) handcuffs conveying "loss of liberty." Taking temporary refuge in the fog-bound streets, the lodger (whose name is never revealed in the film) receives help from Daisy, who staunchly wraps a coat about him, saying, "You're shivering. Keep your handcuffs hidden and we'll get you some brandy."
This remarkably assured, and sometimes beautiful, picture was not met with initial enthusiasm. Before it was released, Ivor Montagu was brought in to re-do the titling, and E. McKnight Kauffer contributed design work. Hitchcock was initially resistant, until Montagu convinced him that he was improving upon, not reducing, what was already there. When the film was released, it became a hit. Hitchcock and Montagu would work together on several future projects. Hitchcock's filmmaking career had begun.
---
---
Contents | Features | Reviews | News | Archives | Store
Copyright © 1999 by Nitrate Productions, Inc. All Rights Reserved.